Malvinas war veterans demand DNA tests to identify soldiers buried at Darwin
Thursday, December 1st 2011 - 04:26 UTC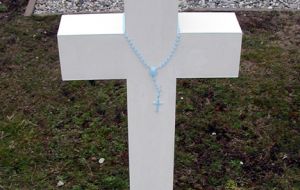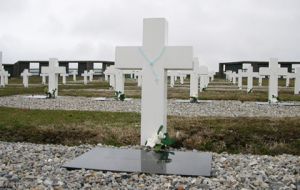 Malvinas war veterans are demanding DNA tests to identify the unknown soldiers buried at the Argentine cemetery in Darwin as part of the remembrance events of the 30th anniversary of the Falkland Islands conflict in 2012.
The demand from the Malvinas Veterans association, chapter La Plata, refers to the 123 tombs identified by the brief but deeply moving engraving: "Argentine soldier: only known to God".
"Our objective is to reach the 30 years of the Malvinas war with no impunity of any kind: with no issue pending", said Ernesto Alonso speaking to the Kirchner financed newspaper Tiempo Argentino.
The veterans with the sponsoring of solicitor Alejo Ramo Padilla demanded before a federal court that the Argentine State implements the necessary mechanisms for a team of Argentine anthropologists to travel to the Darwin cemetery to extract samples for DNA tests to facilitate identification.
According to Alonso the initiative has the support from the Malvinas and South Atlantic Islands fallen next of kin commission.
The incoming second administration of President Cristina Fernandez which takes office 10 December is planning a series of public ceremonies scheduled to culminate April 2, when the three decades of the Argentine invasion to the Falklands, with a massive parade of Malvinas veterans in downtown Buenos Aires.
The Falklands' conflict or Malvinas war took off 2 April 1982 with the landing close to Stanley of Argentine marines and ended 74 days later with the surrender of the Argentine forces to a British Task Force sent to recover the Islands.
The defeat forced the collapse of the military Junta led by General Leopoldo Galtieri and the following year free elections opened the way for the return of democracy to Argentina, ending seven years of a ferocious dictatorship and thousands of killings and disappearances.