Mantega to be retained in Brazilian cabinet shuffle expected for January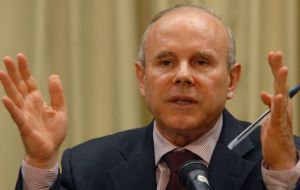 Brazilian President Dilma Rousseff plans to replace a handful of ministers to streamline the cabinet when she completes a year in office in January but the shuffle does not include Finance minister Guido Mantega, according to Planalto sources.
The Brasilia and Sao Paulo have been speculating about the shuffle which is geared to improve the government's efficiency and crack down on corruption that has already led to the resignation of several ministers.
The presidential office has been receiving a growing number of media and investor inquiries regarding Mantega's future since he began spending more time in Sao Paulo to care for his ailing wife, said the official. His deputy, Executive Secretary Nelson Barbosa, has assumed a higher profile in his place, giving interviews and making public appearances.
Rousseff trusts Mantega and believes he is doing a good job in steering Latin America's biggest economy through global financial turmoil, according to presidential sources who also underline his close ties to leading policy makers around the world, "a most valuable asset during the crisis".
Mantega, a 62 year-old former economics professor, took over as Brazil's Finance minister in 2006 after serving as former President Lula da Silva's Planning minister and head of the state development bank BNDES.
Mantega led Brazil's successful response to the 2008 financial crisis, cutting taxes and ramping up state-led lending to fight off a brief recession and deliver 7.5% growth in 2010, the fastest in two decades.
The minister is one of 12 Lula da Silva era officials Rousseff retained in her 38-member Cabinet when she took office in January. Five of them, including Mantega predecessor Antonio Palocci, have since resigned, all but one of them amid media allegations and police probes over alleged corruption. Two other ministers (Labour and Cities) are also in the limelight because of corruption allegations exposed in the media.
As part of President Rousseff's planned cabinet shuffle, some of the ministers that could go include Urban affairs, Culture, Labor and Agrarian reform. Education Minister Fernando Haddad is facing an early 2012 deadline to step down and be eligible to run in next October's municipal elections. However Central Bank president Alexandre Tombini, who spearheaded the central bank's surprise rate cut in August, will remain in his post, according to the same sources.
Rousseff and Lula da Silva's Workers' Party lacks a majority in Congress and depends on the votes of a multi-party coalition to pass legislation. While Rousseff has continued a Brazilian political tradition of splitting cabinet positions in proportion to parties' electoral strength, she has also faced resistance by expressing a preference for technocrats in other key positions and by thwarting efforts to boost spending on earmarks.
Precisely a well known metals' entrepreneur, Jose Gerdau, is advising Rousseff in the shuffle through the office of Performance and competitiveness to overview ministries performance.
"It's impossible to manage a government when you have forty ministries" is Gerdau's most famous phrase when accepting the advisory role, although "it's a very personal opinion", he added immediately.
However if successful in the attempts, (seduction or confrontation), to impose her views to the Brazilian political system, the new cabinet will leave behind the image of Rousseff as a caretaker for Lula da Silva from whom she inherited most main officials, and effectively become the president that was elected by the Brazilian people.