Meryl Streep portraying 'The Iron Lady' named best actress by NY Film Critics Circle
Thursday, December 1st 2011 - 05:57 UTC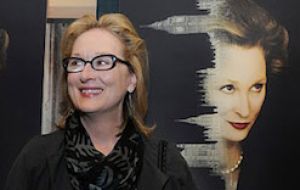 Meryl Streep has been named best actress for her portrayal of Margaret Thatcher in upcoming film The Iron Lady by the New York Film Critics Circle.
The two times Oscar winner Streep bears a strong resemblance to Britain's first female Prime Minister Margaret Thatcher who is credited with turning around the UK economy and major international feats such as the Falklands conflict and the fall of the Iron Wall.
Brad Pitt won best actor for his performances in baseball film Moneyball and Terrence Malick's cosmic drama The Tree of Life. Silent film The Artist was named best film of the year and also won best director for Michel Hazanavicius.
The awards will be handed out at a ceremony on 9 January.
The other acting prizes went to Jessica Chastain for her supporting roles in The Help, The Tree of Life and Take Shelter, while veteran actor Albert Brooks won best supporting actor for Drive.
Werner Herzog's 3D documentary Cave of Forgotten Dreams also picked up best nonfiction film, with financial industry thriller Margin Call winning best first feature for JC Chandor.
Iranian drama A Separation was voted best foreign film.
The New York Film Critics brought forward their annual vote this year in a move that was widely seen as a bid for greater relevance in the award season.
Chairman John Anderson did not deny the move was to increase their influence, but said other reasons were foremost.
"I thought it would be interesting for us to be able to vote without other awards having been given out," he said.
"Subconsciously or consciously, people are affected by other groups' voting". However Anderson admitted the organisation might return to voting at a later time next year because a number of members were opposed to fitting film screenings into a tighter time frame. (BBC).-