CFK moved to tears on receiving picture of her husband painted by Chavez
Friday, December 2nd 2011 - 16:00 UTC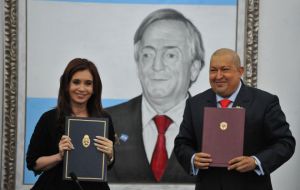 Argentine President Cristina Fernández signed on Thursday nineteen cooperation agreements in different fields with her Venezuelan counterpart Hugo Chávez at the Miraflores Palace in Caracas.
Cristina Fernandez is in an official visit to Venezuela ahead of the Celac, Community for Latin American and Caribbean States summit scheduled for Saturday when all the regions leaders with the exception of the US and Canada will be attending.
The Argentine president and Chávez also reviewed their bilateral agenda and the possibility that the Argentine Government gets involved in specific social matters in support of the Chávez regime.
During the ceremony, Chávez surprised Cristina Fernández with the announcement of the creation of the Néstor Kirchner meeting room at the Miraflores Palace and also unveiled a painting, created by him showing the face of her late husband sitting next to the Bolivarian leader.
"It's my best work of art" Chávez said after unveiling the painting. He also revealed that the paint "was still fresh" because he had "finished it last night". He repeated that the picture had been created entirely by him and confessed he had taken painting lessons.
Visibly moved, Cristina Fernández received the original painting and thanked her Venezuelan counterpart.
"I would like to thank you for such an immense gesture of love and appreciation towards a man who was my partner in life and the father of my children," she stated in tears.
The room could be seen decorated with framed photos of Chávez with the former Argentine president, and two of large oil portraits, both of them painted by Chávez.
Cristina Fernandez later participated in a social program for women launched by the Venezuelan government and where she addressed the audience.
The Argentine president arrived to Caracas Wednesday night for an official three-day visit. On Friday she is scheduled to meet with her Brazilian counterpart, Dilma Rousseff.