In spite of regional challenges, Uruguay expects another successful summer season
Friday, December 2nd 2011 - 05:27 UTC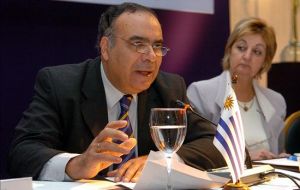 The loss of competitiveness with Brazil, the strong devaluation of the Argentine peso, the rigorous foreign exchange controls imposed by the government of President Cristina Fernandez and their possible impacts on the coming summer season, is some of the main concerns of the Uruguayan tourism industry.
A report based on this working hypothesis was presented by Montevideo consultants CPA/Ferrere, (some of whose members have close links with the Uruguayan government), under the heading of "2012 Season and tourism prospects" to Uruguay's Tourism and Sports minister Hector Lescano and the main private sector organizations.
According to the report the Uruguayan peso has not followed the evolution of the Brazilian Real, "which means that since mid-2011 Uruguay has become dearer and is an impediment for further Brazilian tourist expansion into the country.
But in spite of these shortcomings the report is overwhelmingly positive.
"Uruguay is going to experience another successful season, better than the previous one, although it will not expand at the same rate. This does not mean a negative outlook since last season tourism activity soared 40%. Now we are talking of a 10% expansion, but on the basis of the incremental 40% of the previous, which is therefore most positive", said minister Lescano commenting on the report.
More specifically for the case of the Argentine tourists, the obstacles imposed for the purchase of US dollars are not expected to cause a derail to expansion, and therefore growth this coming season is estimated at 20% compared to the previous, when the overall activity ballooned 50%.
According to Uruguayan stats, 60% (1.2 million) of tourists entering Uruguay originate in Argentina and 18% from Brazil, while half of the money injected into the economy from tourism is generated by Argentines.
Meantime from Asuncion it was reported by the Paraguayan travel agencies and companies association, that the number of nationals travelling this coming summer to spend holidays in Uruguay will increase 15%.
Last year the number of Paraguayans visiting Uruguay reached 36.672 having spent a total of 47 million dollars, which makes it the highest per capita of all visitors to Uruguay.