Merkel warns Europeans face long, hard 'marathon' to restore lost credibility
Friday, December 2nd 2011 - 22:12 UTC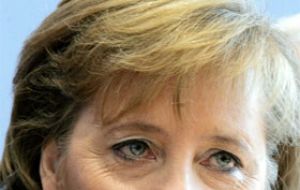 German Chancellor Angela Merkel called for rapid EU treaty change to remedy the root causes of the Euro zone's debt crisis but warned that Europeans faced a long, hard "marathon" to restore lost credibility.
Outlining a long-term approach to tighter fiscal integration in the single currency area, with tougher budget discipline, she dismissed quick fixes such as massive Fed-style money printing by the European Central Bank or issuing joint Euro zone bonds.
"Resolving the sovereign debt crisis is a process, and this process will take years," Merkel told parliament, vowing to defend the Euro, which she said was stronger than Germany's former deutschemark.
"The European Central Bank has a different task from that of the US Fed or the Bank of England," the German leader said.
However, sources close to Merkel said she was willing to see the ECB step up its buying of troubled Euro zone countries' bonds as a bridging measure until budget controls took hold, but did not see it as a durable solution.
Speaking a week before a European Union summit seen as make-or-break for the 17-nation single currency area, Merkel ruled out issuing common Euro zone bonds, saying that would breach the German constitution.
Instead, she called for a mixture of greater European powers to control national budgets, to be enshrined in treaty changes, and smart use of the Euro zone rescue fund to stabilize markets.
Merkel's speech set the agenda for seven days of intense diplomacy to try to frame a new political deal to restore shattered market confidence and give the ECB grounds to act more decisively to defend the Euro.