UK reaffirms to next Spanish government full support for Gibraltar sovereignty
Friday, December 2nd 2011 - 00:00 UTC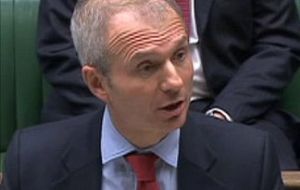 Just a few days after the Conservative Popular Party swept into power in Spain, the British Government has underscored its long-standing assurance that it will not talk about Gibraltar's sovereignty against the wishes of its people.
The PP said in its electoral manifesto that it would seek a return to bilateral talks with the UK over Gibraltar, but the message from Britain this week was clear, reports the Gibraltar Chronicle.
David Lidington, Minister of State for Europe and NATO at the Foreign & Commonwealth Office, set out Britain's position in a response to a question in the House of Commons.
Tory MP Andrew Rosindell had asked if Britain had recently discussed the sharing of Gibraltar's sovereignty with Spain.
Mr Lidington said Britain's Foreign Minister, William Hague, had not discussed Gibraltar's sovereignty with Spain.
"Any communication that we have with the Spanish Government about Gibraltar reflects our clear position on sovereignty, which is that the UK will never enter into arrangements under which the people of Gibraltar would pass under the sovereignty of another state against their wishes and, furthermore, the UK will not enter into a process of sovereignty negotiations with which Gibraltar is not content," he added.