A mild, good-intentions, no surprises marks the CELAC Caracas Declaration
Monday, December 5th 2011 - 04:19 UTC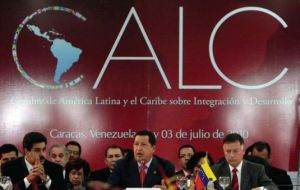 The new Latin American and Caribbean organization backed Argentina's claim to sovereignty over the Falkland Islands and slammed US sanctions on Cuba at the end of a two day summit in the capital of Venezuela, hosted by President Hugo Chavez.
But the 33-member Community of Latin American and Caribbean States, or CELAC, (including Cuba's Raul Castro and specifically excluding the US and Canada) drew short of any more overt anti-Western rhetoric as some analysts had predicted at the meeting which had the self-proclaimed "anti-imperialist" and leader of the Bolivarian revolution Chavez as the main star.
Rather, its 22 final declarations ranged wordily but mildly over the need to combat global ills like price speculation, drugs, terrorism, nuclear arms and cruelty to migrants.
"I don't think we're exaggerating if we call it a historic day" said Chavez, 57, for whom the summit achieved two aims: setting up a regional body without the United States and Canada, and allowing him to showcase his recovery from cancer treatment.
"United in our differences, we must demand respect," Chavez told the assembly. "No more interference, we've had enough."
Chavez and other populist leaders like Raul Castro of Cuba, Daniel Ortega of Nicaragua, Evo Morales of Bolivia and Rafael Correa of Ecuador say the century old hemisphere-wide Organization of American States has always been under the thumb of Washington.
However conservative-led nations or with non-engaging diplomacy like Colombia, Chile, Mexico, Peru and Brazil have clearly ensured the CELAC does not become a mouthpiece for them, with the final declarations relatively mild and next year's meeting set for Santiago, Chile.
The Caracas Declaration was followed by an adjoining document where it blasts the US for the Cuban embargo; calls for Falklands sovereignty discussions between Argentina and UK; commits support for Haiti; backs the consumption and use of coke leaves, according to 'ancestral' indigenous traditions; supports Ecuador's climate change experiences; calls for easier sea access for landlocked Paraguay; promises aid for Central America to confront the world crisis and natural disasters; condemns the criminalization of migration and peoples' traffic; congratulates itself as the only densely populated region of the world with no nuclear weapons; reaffirms commitment to fight terrorism and drugs and reiterates as official policies social inclusion and food security.
During the two day meeting, debate was fluid with no clashes or heated discussions and delegations were exposed to a litany of repeated presentations: Colombia said it was willing to a political solution to the ongoing armed conflict with the drug-funded guerrillas and asked support for a Colombian candidate to the International Labour Organization; landlocked Bolivia's Evo Morales asked for a sea outlet and an end of Armed Forces trained following the US model and doctrine; Ecuador's Correa complained about its ongoing struggle with the media and the 'monopolistic conglomerates' that manipulate public opinion.