Crucial week for Euro stability takes off in Paris with Sarkozy-Merkel meeting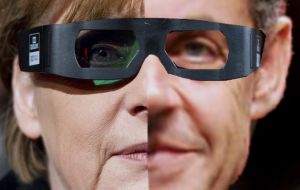 French President Nicolas Sarkozy and German Chancellor Angela Merkel meet on Monday in Paris the kick off for a round of talks involving European leaders, the European Central Bank (ECB) and US Treasury Secretary Timothy Geithner, culminating in Brussels on Friday with an EU summit.
Sarkozy and Merkel are expected to take their ideas to the EU summit on Friday that is being seen as crucial for the single currency. Germany favours strict EU central control while France wishes to preserve more national sovereignty.
Meanwhile, two badly-hit Euro zone countries, Italy and Ireland, are preparing tighter austerity measures.
In Italy, Prime Minister Mario Monti is due to seek approval for his government's plans in parliament. Taxes on the assets of the wealthy will go up, as will pension ages. There will be a major drive to tackle tax evasion.
And Irish Prime Minister Enda Kenny has said the population must prepare for a tough budget this week. Public spending will be cut by 2.2bn Euros a year and taxes raised by 1.5bn Euros, with VAT increasing to 23%.
With financial markets putting pressure on some of the Euro zone's largest - and most highly indebted - nations, Mr Sarkozy said the stakes were high.
"What will remain of Europe if the Euro disappears?" he asked. "Nothing."
France and Germany must play a key role to ensure "a zone of stability", he said last week. "We must confront those who doubt the stability of the euro and speculate on its break-up with total solidarity."
Mrs Merkel has promised "concrete steps towards a fiscal union" - in effect close integration of the tax-and-spend polices of individual Euro zone countries, with Brussels imposing penalties on members that break the rules.
"We need budget discipline and an effective crisis management mechanism," she said. "So we need to change the treaties or create new treaties."
Mr Sarkozy faces an election early next year and is under pressure not to cede sovereignty to unelected officials in Brussels.
Merkel and Mr Sarkozy have been working so closely in recent weeks that commentators have taken to calling the two Merkozy.
Treaty change could take many months, but the hope is that a strong, unified expression of intent on Friday could reassure markets enough to lower borrowing costs for Italy, Spain and other countries with high debt and spluttering economies.
If governments can not pay their debts - if they default - the resulting shock could bring down the banks that lend to them and create another global economic crash.
US Treasury Secretary Timothy Geithner's presence in Europe this week for several meetings with leaders is a measure of US concern that Europe's woes could spread beyond the continent.
On Thursday the ECB holds its monthly policy meeting. It has come under pressure to do more to ease Europe's debt crisis but has ruled out the idea of "Euro bonds" backed by all Euro zone members.
Germany is against the notion as is the ECB itself because such a move could lessen pressure on governments to control their spending. However, ECB head Mario Draghi has hinted that the bank could take more aggressive action to help governments.
The ECB has been buying modest amounts of government bonds on the secondary market but could step that up, which would stabilise or lower borrowing costs.