Cuba's Revolution square admits the growing presence of the Catholic Church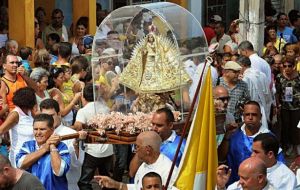 Hundreds of Cubans paid homage on Saturday to the patron of the country, the Virgin of Copper Charity, at the Plaza de la Revolución (Revolution Square) the political heart of the island and at the precise point where Pope John Paul II in 1998 held a mass to hundreds of thousands.
"We are not in any place, we are at a place of great significance: it is the moment to pray for all" said the Deputy Bishop of Havana Juan de Dios addressing the faithful who had congregated in early dawn with candles and burning torches.
With the statue of Cuba' national hero Jose Marti and huge posters of two icons of the Castro's revolution, Che Guevara and Camilo Cienfuegos in the background, the image of the virgin arrived to the Revolution Square after having toured the streets of Havana.
The 45 minutes mass plus songs, prayers and acclamations to the virgin and to Cuba took place where in January 1998, at the end of his historic visit to Cuba, John Paul II held an open mass and where for 48 years Fidel Castro addressed the Cuban masses.
The celebration which included singing the Cuban national anthem and a call for national reconciliation took place under the watchful eyes of the Communist Party Religious Affairs Office .
The peregrination of Cuba patron saint across Cuba, the first since Fidel Castro and his victorious revolution took power in 1959, started in August 2010 and after having toured 28.000 kilometres all over the island reached Havana last 6 November.
In Havana the image of the virgin will visit the different neighbourhoods before ending at an open mass next December 30 along the Port Avenue by the sea.
The peregrination is part of the warming up process between the Castro's regime and the Catholic Church after four decades of confrontations, which started with the Pope's visit and became even more forceful following a historic dialogue between President Raul Castro and Cardinal Jaime Ortega in May 2010.
The result of such dialogue includes the release of 130 political prisoners between July 2010 and the beginning of 2011, with most of them travelling with their next of kin to Spain.