For old time's sake
Monday, December 5th 2011 - 20:44 UTC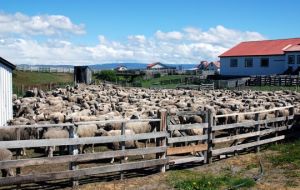 THE third of a planned series of extended political articles written exclusively for the Penguin News web site by Deputy Editor John Fowler. John is a former Superintendent of Education and a former Manager of the Falkland Islands Tourist Board.
AS someone who has always maintained that individuals should not necessarily be held responsible for the actions of their national governments, I find one of the really annoying aspects of the Argentine sovereignty claim over the Falkland Islands is that it makes ordinary human relations between Falkland Islanders and Argentines more difficult than they need be. However pleasant Argentines appear to be and however much they strive to avoid mentioning the sovereignty issue, it is the 'the elephant in the room' which creates distrust and engenders doubts about their real intentions.
In fact, nice Argentines can sometimes be harder to deal with than the out-and-out 'nasties' who send emails calling us pirates and threatening to do disgusting things to the Queen. Such people can be ignored without regret, though if I have time I sometimes amuse myself by sending icily polite replies in Spanish. Natural politeness - something that Falkland Islanders in general have a lot of – works against responding aggressively to pleasant-seeming Argentines, who appear genuinely interested in learning something of the reality of our lives.
It is clearly in our interest that as many Argentines as possible should have some solid facts to replace the myths about us which they have been fed since childhood, but on meeting even the most affable Argentine, suspicions of condescension or of a hidden nationalist agenda can creep out of the woodwork and impede what might otherwise be a real meeting of minds and the possibility of a genuine friendship developing.
This is such a shame, because Argentina is in many ways a fabulous country, encompassing as it does such vast differences of climate and vegetation from its sub-tropical north to its sub-Antarctic south. In the past I have enjoyed travelling through this diversity, finding everywhere people ready to go out of their way to help strangers and make them feel welcome.
I don't, however, as it has sometimes been claimed, love all Argentines, any more than I love all Englishmen or Mongolians. Choosing friends on an ethnic or nationality basis strikes me as a stupid, limiting and intrinsically racist thing to do. There are good, bad, boring, interesting, entertaining and simply awful people of every nationality.
I don't hate all Argentines either, though being invaded by several thousand of them in 1982 wasn't calculated to endear them to us, nor were their individual personalities given much opportunity to shine through the anonymity of their uniforms, steel helmets and sinister flapping rubber ponchos.
Later, as the occupation wore on and the disdain, neglect and even cruelty demonstrated to the Argentine conscripts by some of their NCOs and officers became increasingly apparent, some Falkland Islanders were able to see the 'some mothers' sons' behind the uniform. Hatred of the enemy gave way in some instances to instinctive acts of kindness being shown to individuals who had been made to assume that role. These small acts of kindness – a cup of coffee here or a bar of chocolate there - were not 'collaboration' but small victories for humanity.
As I once explained in halting Spanish to an Argentine soldier to whom I gave a packet of cigarettes after he had complained that "they don't take Argentine money here," my gesture was that of one smoker recognising the need of another and was not be taken in any sense as implying approval of the predicament his government had placed us both in by virtue of their illegal invasion.
I doubt whether this generosity on my part made any difference to this soldier's belief in the rightness of the cause he was representing – though I suspect that he, like some other conscripts, probably thought he was in Chile. The point is that despite the situation in which we found ourselves, we were able to share a moment where our common needs were more important than our respective flags.
Apart from the loss of life and pain and suffering caused to both sides, one of the deeply disappointing aspects of the war in 1982 was that far from resolving anything, it left the establishment, or more accurately re-establishment, of normal neighbourly relations more difficult than ever. Among the many fictions bandied about by the proponents of the Argentine sovereignty claim is the notion that it has been energetically pursued since 1833. This is not the case. For much of the latter part of the 19th Century and the first half of the 20th until Peron came to power, there was free movement of people and a neighbourly relationship between the Islands and the southern parts of Argentina, where many elements of rural life were very similar and equally rugged.
It is distressing to Falkland Islanders that our right to exist is now being questioned by people with whom we used to share so much in common.
Even though the majority of Argentines now regard the invasion of the Falklands as a last-ditch act of lunacy by a repressive regime that they were glad to see the back of, it is sad that they do not seem to recognise that the whole Falklands/Malvinas issue is as big a diversionary irrelevance now as it was in 1982. There doesn't seem to be any point in talking to the present Argentine Government, but if the people of that country could just take that further step and think objectively about the situation, they might learn to sing along with The Who, "We won't get fooled again."
Gaining sovereignty over a place where few Argentines would want to live, against the wishes of the people who actually live there quite happily would do nothing to solve Argentina's many problems. Giving up the claim need not mean capitulation to Britain, but would facilitate a return to normal neighbourly relations in the South Atlantic.
By John Fowler - Penguin News - Stanley