"Mercozy" Euro 'fiscal control' plan to be announced Wednesday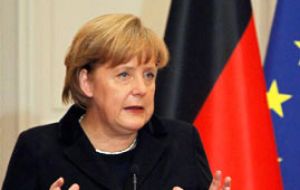 French President Nicolas Sarkozy and German Chancellor Angela Merkel met in Paris on Monday to align their positions on centralizing control of Euro zone budgets to stem a debt crisis that threatens Europe's currency union.
The duo, increasingly dubbed "Merkozy" as they intensify bilateral efforts to restore confidence in the Euro zone, met over lunch in Paris. Sarkozy told reporters in a news conference an "agreement" to address Europe's crisis is complete and should be presented on Wednesday.
"The Franco-German agreement is very complete. It will be written up in a letter and presented to (European Council President) Herman Van Rompuy on Wednesday," he explained.
"We want to make sure that the imbalances which led to the situation in the Euro zone today cannot happen again."
He told the document should preferentially include all EU members. "Things cannot continue as they have done up until today. Our preference is for a treaty among the 27 (EU members), so that nobody feels excluded, but we are open to a treaty among the 17 (Euro members), open to any state that wants to join us," the French leader remarked.
"It is very important that we work as closely together as possible. We are in a difficult situation and we need to regain trust, as the belief that we can be taken at our word has suffered," German Chancellor Angela Merkel reiterated.
Merkel rejected the idea of major changes on the European Central Bank plan of action "Regarding what we have said about the ECB, nothing has changed. We reject the idea of Euro bonds," she said.
"This package shows that we are absolutely determined to keep the Euro as a stable currency and as an important contributor to European stability," she highlighted.
Merkel and Sarkozy had already both wanted a system of more coercive discipline for Euro zone governments which fail to keep down their budgets deficits.
But they had been under unprecedented pressure to see eye to eye in a crisis that has split them on issues such as the role of the European Central Bank in lending to troubled states and on whether the bloc should issue joint Euro bonds.
Sarkozy and Merkel said they would send off their plan on Wednesday, in time for a make-or-break European Union summit on Friday, and made clear their determination to drive through an EU treaty change despite objections from some member states.
If countries such as euro outsider Britain blocked a treaty change at 27, the euro zone would proceed with an agreement among its 17 members open to all who wanted to join, they said.
Several governments, notably Britain, Ireland and the Netherlands, oppose treaty change for domestic political reasons and fear they would not win public backing in referendums.