Mujica dressed with a Venezuelan Army jacket triggers a barrage of criticisms
Monday, December 5th 2011 - 06:09 UTC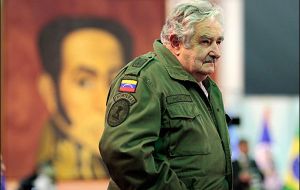 A major controversy exploded in Uruguay when President Jose Mujica was pictured by international news agencies, during the CELAC meeting in Caracas, wearing a green jacket from the Venezuelan Army.
"It is a true offence to the Uruguayan Armed Forces and it must be condemned emphatically" said former president Luis Alberto Lacalle who added the whole incident is "deplorable". Senator Lacalle belongs to Uruguay's main opposition National party.
"Among the many dignities and honours which correspond to the President is that of commander of the Armed Forces and we must analyze the photo from that angle, a major surprise, and not a pleasant surprise", added Lacalle.
It does not matter what country the military jacket belongs to, "be it Argentina, Brazil or China, it's the same offence. He is president of all Uruguayans and although symbolic it is of great importance he respects the forces he commands".
The leader of the junior opposition party Pedro Bordaberry described the incident as 'disgraceful'. "The president of all the Uruguayans disguised with the uniform of Venezuelan military, pitiful. Must we keep quiet? certainly not, it's shameful".
"Mujica refuses to wear a tie but admits to dressing up as a Venezuelan military? Shame for Uruguay", said Senator Tabare Viera.
Javier Garcia, a member from the Legislative Defence Committee also blasted the Uruguayan president. "Mujica has lost course completely. Dressing up as a foreign military officer is not only improper, it's a provocation. And I must say I think he knows very well what he did is highly offensive", said Javier Garcai.
"Dressing humbly makes to the character of the president and I share that; but disguised in a military jacket from another country, certainly no. The President is the civilian commander of the Uruguayan armed forces and as such must not use the uniform of another army", said lawmaker Jose Carlos Cardoso.
There was no official response to the barrage of criticisms from Government House or from the President.
It was Foreign Affairs minister Luis Almagro who tried to brush the incident aside arguing that the president was feeling cold because at the CELAC summit's hall in Caracas the air conditioner was too strong.
"The president didn't take much clothing for a brief trip and he was feeling cold so they lent him the jacket. There's nothing wrong with protocol or nothing to be concerned about", said Almagro.