Sixth member of Rousseff's cabinet resigns amid corruption allegations
Monday, December 5th 2011 - 06:39 UTC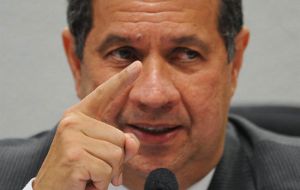 Brazil's Labor and Employment Minister Carlos Lupi resigned Sunday, the sixth Cabinet member to leave President Dilma Rousseff's government since June amid corruption allegations.
Lupi denied any wrongdoing and said he was the victim of "political and personal persecution," according to a statement published on the ministry's website. He ran the ministry since 2007.
Before that and for several years he acted as the 'best-paid' advisor of the Lower House of Congress with hardly ever showing up, according to other claims made public in the Sao Paulo media.
"I leave with a clear conscience after fulfilling my duties," the statement said.
Since June, Rousseff has lost her Cabinet chief and the ministers of transportation, agriculture, tourism and sports over allegations of corruption. All have denied wrongdoing.
The defense minister stepped down in August after criticizing other members of the government.
Veja magazine reported Nov. 5 that top Lupi aides allegedly took kickbacks from non-governmental organizations, or NGOs, that won ministry contracts. The magazine also reported that in 2009 Lupi flew to public functions in a private airplane rented by the head of an NGO that received 14 million Rreais (7.9 million dollars) from the ministry.
Lupi, 54, denied the allegations at the time, but offer no evidence to the contrary.