Chilean education system tends to "exclusion and discrimination" says UNESCO
Tuesday, December 6th 2011 - 19:04 UTC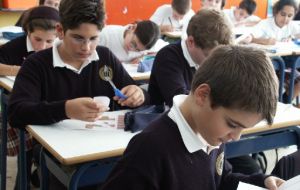 The Chilean education system promotes inequality and exclusion according to a report from UNESCO regional office released in Santiago, based on comparing education legislation from Argentina, Uruguay and Finland.
Among the greatest challenges for Chile the report points out the 'weaknesses' of Chilean legislation to confront 'inequality'.
"The system which characterizes Chilean education is geared to privatization processes which tend to segmentation, exclusion, discrimination and highly selective mechanisms", says the report compiled by the former UN rapporteur on education rights, Vernor Muñoz.
"There are no doubts that the admission tests establish criteria and differentiation effects which in practice lead to selectivity and probably to stigmatization", adds the report which nevertheless points out that Chilean legislation bans discrimination in the treatment of students.
According to UNESCO the scholarships and subventions system in Chile "protects and benefits private initiative" which excludes the interpretation of the concept of education understood as an asset of public interest.
This is contrary to what happens with education legislations from Argentina and Uruguay which are explicitly clear regarding the profit oriented education or in Finland's which ensures opportunity guarantees, points out UNESCO.
"In Chile, legislation deposits in parents and community a high degree of responsibility in terms of ensuring education, impeding discrimination or offering a quality education, thus downgrading the role of the State which should be the guarantee of the right to education", argues the report.
Finally the report underlines that Chile has signed international treaties, more specifically the International Pact on Economic, Social and Cultural Rights which in article two is compulsive for states to take "immediate and non delayed" measures to ensure gradually that secondary and tertiary education are free.