Conciliatory message from new 'K' president of the Argentine Lower House
Wednesday, December 7th 2011 - 01:51 UTC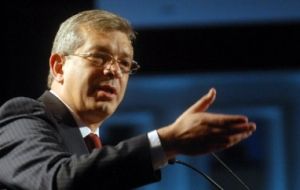 The newly appointed Argentine Lower House president, Julián Domínguez, in a conciliatory message assured on Tuesday that "plurality is guaranteed in Congress" and called for "everyone's political commitment to guarantee everybody's interests."
"This can't be the result of a party, but the result of creating consensus," said Domínguez as he spoke as the Lower House's president for the first time. Also, he assured that the Congress never passed a law against popular interests.
The former Agriculture Minister was chosen by fellow lawmakers as the president of the Lower House. He was suggested for the post by the head of the Kirchnerite caucus, Agustín Rossi, who praised his work in the Agriculture Ministry.
"Domínguez comes from solving one of the problems that had all Argentines worried for some time. He carried out a complex task in a moment in which very few people would give him credit, a moment in which people walked by a Kirchnerite and crossed the street and he assumed a responsibility President Cristina Fernández had expressly handed to him," Rossi said.
Meanwhile, the head of the opposition Radical Party bloc, Ricardo Gil Lavedra backed the initiative and praised outgoing Lower House president Eduardo Fellner.
Lower House lawmakers elected in October elections took office on Tuesday at a ceremony in Congress. The 130 new deputies, who will give a Kirchnerite majority, were being appointed by the new head of parliament, Julián Domínguez. Likewise Deputy Agustín Rossi will assume head of the Victory Front's bloc, for the seventh year in a row.
Assuming this role, Rossi will be in charge of letting the government lawmakers know of any orders or commands coming from the Government House.
Eighty out of the one hundred and thirty newly appointed members are brand-new faces to the Argentine Congress. Of the 257 members of the Lower House, the Kirchnerite and allies make up 134, five more than the 129 needed for a quorum.
Norma Abdala de Matarazzo, another K member was named to the crucial post of first vice president of the Lower House. She will decide on who will run the two commissions that the Cristina Fernandez administration needs to be able to pass judgment on bills to be approved by December, such as the 2011 Budget, the extension of taxes, the Emergency Economy and a possible law against the financing of terrorism.