Positive reaction to Cristina Fernandez names for top cabinet posts
Wednesday, December 7th 2011 - 02:00 UTC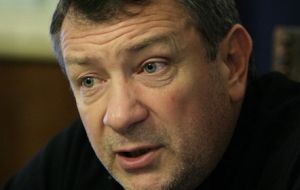 The Argentine government unveiled on Tuesday the list of the new cabinet members for President Cristina Fernández second mandate which will start next Saturday when she takes the oath of office. The initial reactions were positive both in the political system and from markets.
Abal Medina with a long experience is several governments an in his early forties will be the new Cabinet Chief, replacing Aníbal Fernández, and market-friendly Hernán Lorenzino will replace Amado Boudou at the Economy Ministry, the presidential spokesman Alfredo Scoccimarro informed during a press briefing at the Government House.
Completing the list of new members, Norberto Yahuar (former Fisheries) will take on the role of Agriculture Minister, replacing Julián Domínguez, who was appointed on Tuesday as the new head of the Lower House.
Hector Timerman will continue as head of Foreign Affairs; Julio Alak at the Justice Ministry, as well as Julio De Vido at the Planning Ministry, Nilda Garré at the Security Ministry, Florencio Randazzo at the Interior Ministry, Alberto Sileoni at the Education Ministry, Carlos Tomada at Labour and Employment, Juan Manzur at Health and Arturo Puricelli as head of the Defence ministry.
Likewise, Social Development Minister Alicia Kirchner and Tourism Minister Enrique Meyer will maintain their positions. Carlos Zannini was confirmed in his post as Presidential Legal and technical secretary, and Mercedes Marcó del Pont will continue as the head of the Central Bank and Juan Carlos Fábrega as the head of the Banco Nación.
The announcements were done by the new head of media relations and presidential spokesperson Alfredo Scoccimarro.