Mexican intelligence foils plan for one of Gaddafi's son to enter the country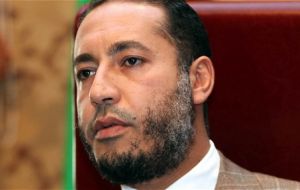 Mexico prevented the entry of late Libyan leader Muammar Gaddafi's son Saadi to the country, authorities said on Wednesday.
Several people were arrested over a plan for Saadi Gaddafi and his family to enter Mexico after intelligence authorities got a tip on Sept. 6, a government spokeswoman said. However it was not clear when the arrests were made.
Spokeswoman Alejandra Sota told a news conference of "the capture and dispersal of a criminal network related to the alleged use of a forged document, people trafficking and organized crime."
Saadi Gaddafi fled south across the Sahara to Niger as his father's 42-year rule crumbled in August. Niger has said he would remain in the West African nation until a United Nations travel ban is lifted.
Like many senior members of the Gaddafi regime, Saadi, a businessman and former professional soccer player, was banned from travelling and had his assets frozen by a UN Security Council resolution when violence erupted earlier this year.
Interpol has issued a "red notice" requesting member states to arrest Saadi with a view to extradition if they find him in their territory.