European Central bank cuts rate to record low 1% to fight recession and deflation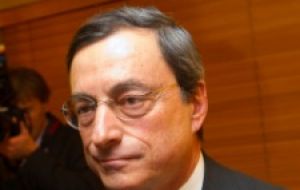 The European Central Bank cut interest rates by a quarter of a point Thursday to counter the twin threats of recession and deflation in the Euro zone, and is expected to unveil fresh measures to help banks hurt by the bloc's debt crisis.
The widely expected rate cut, back to a record low of 1%, came hours before a high-stakes EU summit which will aim to agree on a plan to defuse the crisis, with France and Germany pushing for rule changes to stricter budget discipline in the bloc.
The ECB, which Euro zone officials say has been closely involved in drafting plans for tighter fiscal integration in the bloc, has pressed governments to toughen their budget rules and signalled it could do more to tackle the crisis if they deliver.
The rate cut was aimed at buoying the Euro zone economy, which economists expect to slide into recession by early 2012.
Italy's Mario Draghi who took the ECB helm last month, is also expected to present new measures to aid banks hit by the crisis.
The ECB has already reinstated some of its most potent crisis-fighting tools in recent months in a bid to calm escalating tensions in bank-to-bank lending markets.