November inflation in Brazil up 0.52% and 6.64% in last twelve months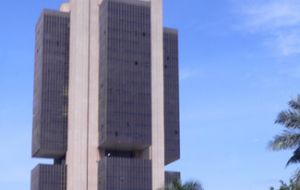 Brazilian consumer prices rose faster than expected in November. Inflation as measured by the benchmark IPCA index, quickened to 0.52% last month from 0.43% in October.
Policy makers reiterated on Thursday that "moderate" cuts to the benchmark interest rate amid slower global growth and "robust" domestic demand are consistent with its 2012 consumer price target, reinforcing bets they will keep reducing borrowing costs at the current half-point pace.
The central bank, which cut interest rates by half a percentage point three times since August, estimates inflation will slow to "around" its 4.5% goal next year, according to the minutes of its Nov. 29- 30 board meeting published Thursday on its website.
President Dilma Rousseff's administration is trying to reignite growth with a mix of tax cuts, lower borrowing costs and credit stimulus. GDP shrank for the first time in 10 quarters in the three months ending in September, prompting Finance Minister Guido Mantega to say that the government will continue to take measures to make credit cheaper and foster 5% growth next year.
GDP contracted 0.04% in the third quarter from the previous three months, the national statistics agency said Dec. 6. The contraction, the first since the first quarter of 2009, is equivalent to an annualized decline of 0.17%.
Europe's deepening debt crisis sapped demand for Brazilian exports as credit curbs, interest rate increases and budget cuts by the government in the beginning of the year began filtering into the world's second-largest emerging economy.
Annual inflation slowed to 6.64% in the 12 months through November, the national statistic agency said on Thursday. Consumer price increases have breached the upper end of the 2.5- to-6.5 percent target range since April.
The central bank forecast that inflation will slow next year to "around" 4.5 percent in all the scenarios it published in today's minutes.
"Even with a moderate adjustment of the level of basic interest rates, in the central scenario the inflation rate stands around the 2012 target," the central bank said in the minutes. The bank expects the global crisis will lead to a "moderation" of domestic economic activity.