Advanced economies unemployment reaches 8.3%; Spain worst case with 22.8%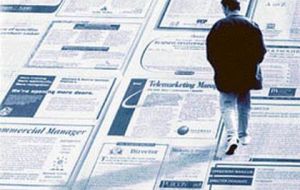 Unemployment rates remain stubbornly high in the world's most advanced economies according to data released Tuesday by the Organization for Economic Cooperation and Development.
Unemployment across the group's 34 countries rose slightly to 8.3% in October, from 8.2% the month before. Spain is the worst case having reached 22.8%.
The OECD says, in total, 45.1 million people in member states were jobless in October, with some of the biggest increases in Europe.
"Around 45.1 million people were unemployed across the OECD area in October 2011, down 1.5 million from October 2010 but still 14.1 million higher than in October 2007" said the OECD report.
The Euro area as a whole saw its unemployment rate edge up to 10.3%, the highest it has been since the height of the global financial crisis.
Spain and the Netherlands saw especially big jumps in unemployment, with Spain's jobless rate hitting 22.8%, which was up 0.3 percentage points on the month and by comparison, up from just 7.9% in July 2007.
Analysts fear the ongoing economic woes in Spain could soon force the Euro zone's fourth largest economy to join Greece and other countries needing international assistance.
Some OECD members did manage to lower their jobless rates. Germany's unemployment rate fell slightly in October to 5.5%. Germany, having dropped 0.2 percentage points to 5.5%, continuing to improve from a high of 8% in mid-2009, the OECD said.
November data from the United States also showed the unemployment rate declining in the world's largest economy, falling to 8.6%, while Canada increased 0.1 point to 7.4%.