Southwest Airlines makes largest aircraft order: 208 Boeing single-aisles 737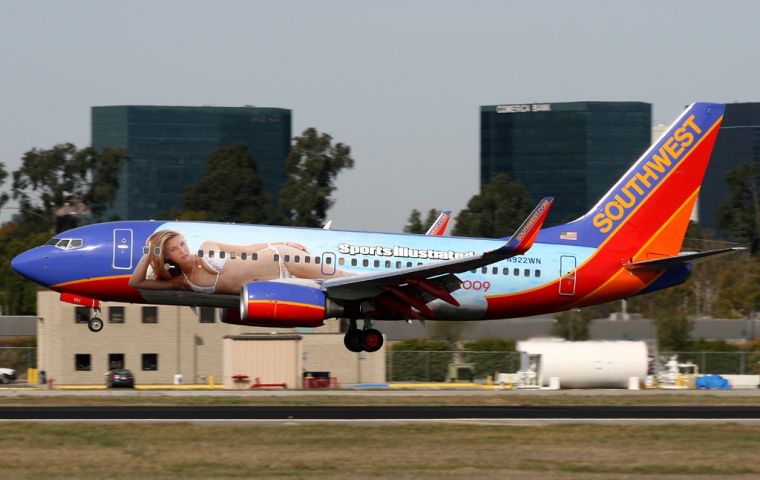 The US Southwest Airlines ordered single-aisle 737s with a catalog value totaling 19 billion dollars from Boeing Co., the largest aircraft order ever and the first to include the more fuel-efficient MAX variant.
The MAX accounts for 150 of the 208 jets in Southwest's purchase, and the airline said on Tuesday it holds options for 150 more. Boeing listed prices for the new jet ranging from 77.7 million for the smallest to 101.7 million for the largest, though airlines typically negotiate discounts.
Last month Boeing announced a deal with Indonesia's Lion Air for 230 planes worth 21.7 billion dollars, but that agreement hasn't been finished.
Upgraded engines on the MAX are supposed to help cut fuel use as much as 12% compared with the current 737, Boeing says. The Chicago-based plane maker announced the new aircraft this summer, giving a head start on orders to European manufacturer Airbus SAS, which decided to equip its rival A320 with new engines about seven months earlier.
Boeing shares gained after the firm order, which eclipses Airbus's record for 200 planes from AirAsia Bhd in June. Buying 737s extends Southwest's status as the world's largest operator of the plane and its commitment to flying only Boeing aircraft. It is the fourth time Southwest has served as the initial customer for a version of the 737, the most widely flown jetliner.
The order represents a new fleet plan for Southwest, which now will accelerate the retirement of its oldest aircraft and shed smaller Boeing 717s it acquired along with AirTran Holdings Inc. in May, Chief Executive Officer Gary Kelly said at Southwest's Dallas headquarters.
"One of the main challenges we face is high fuel costs, and we are very much in need of new technology to reduce fuel burn," said Kelly. Today's aircraft order was the first of his tenure as CEO.
The 737 MAX will reduce fuel burn as much as 18% compared with Southwest's oldest planes, and as much as 11% compared with 737-800 NG, said Mike Van de Ven, the carrier's chief operating officer. The plane will have operating costs 7 percent below the competition, Southwest said.
Engine efficiency is important to Southwest, because fuel spending has surpassed labor to become the carrier's largest cost after a 59% jump in prices over five years. Kelly warned employees earlier this month that the carrier was facing increased pressure to cut operating expenses because its cost advantage over peers had narrowed.
Southwest's firm orders for Boeing aircraft grew to 350 from 142 with Tuesday's addition, and deliveries are scheduled through 2022. The 350 planes represent about 1.2 billion dollars a year in capital spending, Van de Ven said. Southwest plans to hold its fleet size constant at least through 2014, retiring the same number of planes that it adds annually, Kelly said.
Southwest also now holds 242 options for additional aircraft that would be delivered from 2014 through 2027.