Toronto zoo same-sex penguins split up after long relation and pair with females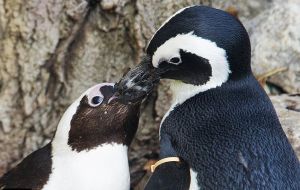 The loveable same-sex pair of endangered African penguins at the Toronto Zoo with a high international have been separated from each other by their handlers and paired up with females as part of a species survival program.

Buddy, 21, was paired with Farai, 3, on Nov. 19 and breeding activity was observed, the zoo said on Monday. Pedro, 10, was introduced to females on December 1 and has been seen "constantly" courting them, including Thandiwey, the one the zoo wants him to mate with. But no solid bonding has yet happened.

Scientists say that when a female shows up, that often spells the end for same-sex male bonds in penguins and other animals. And vice versa for same-sex female pairings. However, that theory doesn't explain why Buddy and Pedro stuck together so closely and for so long in the mixed flock of 12 African penguins at the zoo.

Buddy and Pedro and their mates, along with Puff, 17, and Gozi, 3, a third couple in the breeding program, have been placed in the zoo's penguin house. The couples each have a nest spot consisting of a box lined with gravel and sterile, flexible tubing that can be used as twigs.

But fans worldwide that have been riveted by Buddy and Pedro's story will be saddened to hear the two recently got into a fight as they sat across from one another in their respective nests. It was mostly loud bawling, but there could have been serious injuries if not for a mesh between the nests.

"It's a common male trait. They set territory around a nest,'' Tom Mason, curator of birds and invertebrates at the zoo, told reporters at a Monday news conference held to provide an update on Buddy and Pedro and the mating program.

For African penguins, laying eggs can take anywhere from a few days to one month after the female has ovulated. Typically, one egg is laid, with male and females sharing joint responsibility for incubation. Zookeepers will step in and assist with feeding the chicks three to seven weeks after hatching.

The Toronto Zoo is one of 40 participating in a multi-year breeding program for the endangered species native to South Africa.

Buddy and Pedro's romance has made them social darlings and worldwide newsmakers since their relationship was first reported in the Canadian press.

Up to now, Buddy and Pedro had shown little amorous interest in the young females in the flock, preferring to huddle for hours on end beside a wooden post in their enclosure.