World Economic Forum invites Chilean student leader to annual summit
Tuesday, December 13th 2011 - 06:03 UTC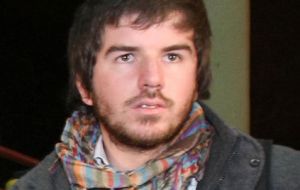 The World Economic Forum (WEF) has released a self-made video of Giorgio Jackson, current president of Chile's Universidad Católica student federation and one of the highest profile leaders of Chile's student movement of 2011, giving a short talk in English.
Jackson will join the newly created "Global Shapers Community," which aims to provide a "global platform" of 20 to 30 year old leaders and use their "tremendous energy and enthusiasm" to "shape. . . a more peaceful and inclusive world."
WEF describes the "shaper" community as "young, extraordinary individuals with great potential for future leadership roles in society" who adhere "to the highest standards of moral and intellectual integrity."
"This year something special happened in Chile, thousands and thousands of students, workers, families, joined into a cause. The cause is to reform our education system" Jackson says with pretty good command of the language.
At just under two minutes the video shows Jackson introduce himself and outline his aims on attending WEF annual summit in Davos-Klosters, Switzerland, to be held from Jan. 25 to 29.
Called "The Great Transformation: Shaping New Models," this year's summit aims to help community leaders from around the world to find solutions to global problems that "require new models, bold ideas and personal courage to ensure that this century improves the human condition rather than capping its potential."
WEF was founded by Klaus Schwab, the German economist that Forbes Magazine described as "indisputably [the] most powerful connector in the world." It is an independent international organization that brings together "leaders of society" to shape "global, regional and industry agendas" and is "committed to improving the state of the world."
All of the "shapers" were asked to submit a video in which they outlined the problems in which they were engaged in challenging.
In his video Jackson spoke of Chile's unequal economic growth and the country's "democratic crisis," and said the nation's political system had failed to respond to months of popularly endorsed protests.
"As youth, as the new generation, we need to face this problem, this challenge, to join into these [political] processes and make some changes for a sustainable development," Jackson says.
By Joe Hinchliffe – The Santiago Times