In summer take your ties off and help save power, says Chilean government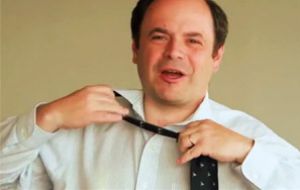 As has happened in other countries, Chilean Energy minister Rodrigo Alvarez has officially launched the campaign, "in summer, no ties" to help save with the use of air conditioners mainly in government offices.
The campaign, inspired in Spain and Japan, points out that using a tie needs more cooling and air conditioning than with out a tie.
If air conditioner temperatures are increased one to three degrees, the savings in power can reach 3% which means the equivalent of 10 million dollars in considerable savings between January and March, if government and private offices are considered, according to the Chilean Ministry.
During summer months the use of air conditioners increases considerably, even more if as weather forecasts indicate this season temperatures in Chile will be above 30 degrees Celsius.
So the invitation is for all professionals, top officials and other staff to feel free of taking their ties off, which even synonymous of formality, for many can also be suffocating.
"It's a small gesture which we want to underline because it helps with energy efficiency. This has been implemented in other countries successfully which has helped to cut drastically the use of air conditioners generating power and economic savings and which we hope will involve both the public and private sectors" said Minister Alvarez.
The campaign was supported by other ministers, Andres Allmand, Pedro Pablo Errzuriz, Joaquin Lavin and Pablo Longueira, all of them with brief roles in a promotional video under the name of "let's take our ties off".