Sony to manufacture notebooks in Tierra del Fuego
Wednesday, December 14th 2011 - 03:52 UTC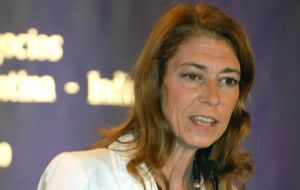 Argentina's Ministry of Industry announced Tuesday an investment of 30 million dollars for the manufacturing of mini-components, notebooks and LCD television sets in the province of Tierra del Fuego, extreme south of the country.
The company involved is Sony, whose senior officers made the official announcement to Minister Debora Giorgi.
According to the Japanese company audio mini-components will begin to be manufactured in the next few months and notebooks will be in the Argentine market towards the end of next year.
The release also points out that the manufacture of LCD/LED sets and screens which already supplies 100% of the Argentine market, will be expanded.
"Great corporations need to participate in a demanding market such as the Argentine market; the Argentine state demands greater integration of locally manufactured components and acts as the tractor for the technological sector of Argentina", said Minister Giorgi.
"With the new investment Argentina becomes one of three countries in the world where Sony will be manufacturing notebooks (the other two are Malaysia and Brazil) and will become one of four where it produces audio equipment (besides China, Malaysia and Brazil). The corporation is also the first to manufacture television sets with 3D technology in Argentina".
According to the Ministry of Industry report, Sony Argentina CEO Jorge Gonzalez, "Argentina is a crucial market for Sony. It is our commitment to offer clients the same variety of products and available technology at world level, guaranteeing the global quality standards which characterize our brand".