Astori anticipates investment grade and the white list for Uruguay in 2012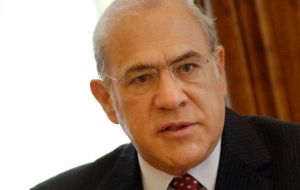 Vice president Danilo Astori anticipated that in 2012 Uruguay will recover investment grade and said that including Uruguay in the OECD "grey list" was a "tremendous injustice" which did not take into account all the advances achieved in combating money laundering and narcotics trade.
Earlier on Thursday the pro-government press in Montevideo reported that following the signing of agreements on financial data exchange with Denmark, Norway, Sweden, Iceland, Faeroe Islands and Greenland, Uruguay had reached 18 (*) accords and thus the Uruguayan government would request to clear the name of Uruguay from the grey list.
"The OCDE has not taken into account Uruguay's serious and responsible policies to combat the narcotics trade and money laundering", said Astori adding that Uruguay's position in these issues "is far better than that of 18 members from G20".
He added that insisting in having Uruguay in the grey list is "a tremendous injustice since following on the fiscal reforms introduced several years ago, (when I was Minister of Economy) plus the international agreements and commitments make this situation totally incomprehensible".
The 'grey list' refers to those countries considered 'uncooperative' regarding exchange of tax information and other mechanisms to combat money and asset laundering, formerly known as 'tax havens' according to the Organization for Economic Cooperation and Development. The "white list" includes those that openly cooperate and support tax transparency and exchange information.
"The signing of these new agreements shows that Uruguay is committed to moving quickly towards full transparency and effective information exchange," said OECD Secretary-General Angel Gurría from Paris.
"I congratulate the government for swiftly acting on one of the Global Forum's recommendations and encourage it to fully implement the global standard."
Gurría said Uruguay's actions follow the progress report delivered by the Global Forum on Tax Transparency and Exchange Information to the Cannes G20 Summit, "which suggested that Uruguay still had to address a number of issues for the effective exchange of information".
Uruguay has signed 7 new agreements providing for the exchange of tax information, showing its willingness to implement the global standards. This brings to a total of 18 the number of agreements Uruguay has with other countries, allowing it to move up to the OECD's list of those that have 'substantially implemented the standard for exchange of information', added the OECD release.
However "the Global Forum will continue to monitor Uruguay's progress and report on further developments in line with Uruguay's commitment to full transparency and effective information exchange for tax purposes".
More specifically on the investment grade, Astori said that risk rating agencies many times "have failed and the current disaster situation in the industrialized world is proof of that, but nevertheless they act unfairly towards Uruguay".
The markets have reacted more quickly to the solvency and solid situation of Uruguay than the risk agencies acknowledging the country's macroeconomic stability conditions, "something which these risk agencies have failed to understand".
"Evidence of this is the recent swap and issuing of new bonds successfully accomplished by Uruguay (totaling almost 1.8 billion dollars)".
(*) Denmark, Ecuador, Faroe Islands, Finland, France, Germany, Greenland, Hungary, Iceland, Liechtenstein, Malta, Mexico, Norway, Portugal, Republic of Korea, Spain, Sweden, and Switzerland