Uruguay meat exports reach 1.5 billion dollars in eleven months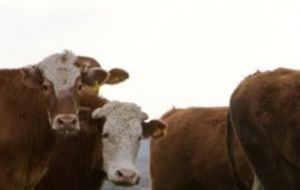 In eleven months of 2011 Uruguayan meat exports jumped 21% in value compared to the same period a year ago, totalling 1.505 billion dollars and 373.548 tons according to the latest release from the country's National Meat Board (INAC).
Of that total (1.5bn), 80.57% was beef, followed by lamb and mutton, 5.11%, equine, 1.8% and broilers, 1.31%. Beef exports totalled 204.449 tons (54.73%) valued in 1.21bn dollars; ovine, 11.300 tons and 76.7 million dollars; broiler, 10.868 tons and 19.6 million dollars and equine meat, 6.197 tons and 17.1 million dollars.
Compared to a year ago Uruguay exported a smaller volume of beef but at higher prices and likewise with lamb and mutton: less tons but at improved values.
The average export price for a ton of beef this year has been 3.961 dollars compared to 3.012 dollars in 2010; similarly with ovine meat, 4.883 dollars against 3.877 dollars in 2010.
The Russian Federation has been Uruguay's best client this year having imported 103.691 tons of beef (294.5 million dollars) followed by the EU with 54.570 tons (356.7 million dollars). Regarding lamb and mutton, EU acquired 5.982 tons (31.7 million dollars) and other Mercosur members, 4.320 tons for 26.8 million dollars.
This way the Russian Federation absorbed 34% of beef exports; the EU, 18%, Mercosur, 10% and Israel, 7%. These five markets represent 84% of all beef export dollars. In position six and seven figures Venezuela (5% and 5.3%) and China (4% and 3.2%)
In the lamb and mutton category, the EU absorbed 38% of exports, followed by Mercosur, 27%, China, 17%; Russian Federation 4% and United Arab Emirates, 3%. EU, Mercosur and China took 83% of all tonnage and the EU, Mercosur and China, 86% in dollars.