UK discussing with Uruguay officials docking ban for Falklands flagged vessels
Friday, December 16th 2011 - 19:04 UTC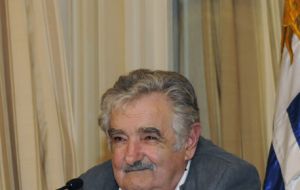 The British Embassy in Montevideo is discussing with Uruguayan authorities the implications of President Jose Mujica public statement that Falklands/Malvinas flagged vessels "are banned from docking in the port of Montevideo".
"We are discussing with the Uruguayan authorities the implications of this statement", said British Embassy sources in Montevideo.
President Mujica made the statement on Thursday, which was later ratified by an official announcement in the Uruguayan Executive portal which also denied any influence, lobbying or demand from Argentina in the matter, nevertheless "there is a political definition not to allow the docking in Uruguayan ports of vessels flying the Islas Malvinas flag, whose sovereignty is claimed by Argentina with the support from Uruguay".
However, "merchant vessels flying the English flag can call into Montevideo or any other Uruguayan port as vessels from any other country", concluded the brief release.
The controversy surfaced when Montevideo Thursday morning media published that under "pressure" from Argentina, Uruguay had banned Falklands/Malvinas flagged vessels from docking in Montevideo or any other Uruguayan port.
The Argentine Foreign Affairs ministry had, allegedly, on several occasions expressed its disappointment to Uruguay for allowing in recent months the access to Montevideo of Malvinas flagged vessels, and also recalled the number of times such vessels had called in Montevideo since 2006.
President Mujica not only made the statement referred to Uruguay's support for Argentina's claim over the Falklands but also instructed the Foreign Affairs ministry and the port of Montevideo authorities to check Argentina's complaint.
Apparently this was tied to another controversial issue with Argentina, the dredging of a River Plate canal with access to Uruguay's main grains and oilseed export port in Nueva Palmira, which depends from the River Plate (joint) Administration Commission, CARP with members from the two neighbouring countries.
Any dredging or deepening of the Martin Garcia chanel as Uruguay has been requesting for years depends on CARP and its Argentine members that have consistently played down the request, under pressure from strong interests in the port of Buenos Aires and Rosario that don't like competition from the Uruguayan side.
According to Montevideo diplomatic sources the two issues were brought up by Argentine Foreign Affairs minister Hector Timerman with President Mujica during the recent Latam and Caribbean states summit in Venezuela. Contrary to his predecessor (Tabare Vazquez) Mujica has adopted a policy of appeasement and good friends with President Cristina Fernandez, arguing Argentina is strategic for Uruguay.
Confirming Mujica's statements the port of Montevideo top authority, Alberto Diaz interviewed by several local radios said that "vessels coming from the Falklands/Malvinas before calling in Montevideo must previously request authorization from the Uruguayan Ministry of Foreign Affairs and the Coast Guard".
Diaz went further and said Mujica had not instructed the port authority "to ban Falklands/Malvinas vessels from docking"
However Diaz admitted that Montevideo port authorities are looking into all relevant data referred to foreign flagged vessels, their volume of landings and flag of origin, "to check for possible irregularities". The report will be passed on to the Foreign Affairs ministry.
Mujica's statements not only caused a diplomatic controversy but concern with the Uruguayan Navigation Centre which brings together maritime agencies, chandlers, dry dock and other port services.
"The president's decision has caused great concern in the sector since it involves economic activity and jobs in the port of Montevideo", said Mario Baubeta president of the Navigation Centre who estimated that foreign flagged vessels operating in Montevideo represent an annual turnover of 300 million dollars.
"And if these vessels are banned from operating in Montevideo, it's obvious they will just move to Brazil with all the losses for Uruguay", added Baubeta.
Another interested party in the issue and which is following the issue closely is the Spanish embassy in Montevideo because Spanish fishing vessels heading for Montevideo or operating in the South Atlantic with Falklands' government licences have been intercepted and challenged by the Argentina Coast Guard, alleging they are "illegally" operating in 'Argentine waters'.