Meryl Streep in awe of Thatcher who she portrays in the "Iron Lady"
Saturday, December 17th 2011 - 04:26 UTC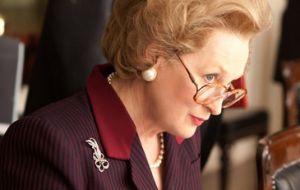 Hollywood legend Meryl Streep concedes her own personality may bear more than a passing resemblance to Britain's steely former Prime Minister Maggie Thatcher, whom she portrays in the new movie "Iron Lady" based on the days leading to the Falkland Islands conflict in 1982
"I am in awe of what she did. The policies you can argue with, but to sit in that hot seat" Streep told CBS television program "Sixty Minutes" in a rare interview.
She added that there might have been "a little bit" of typecasting in choosing her for the role as Thatcher, whom Streep regards with certain awe.
"I can't even imagine having that steadfastness," said Streep, who has played lead roles in films as diverse as the tragic "Sophie's Choice" and the comic "The Devil Wears Prada."
Arguably the leading US actress of her generation, Streep plays Britain's iron-willed prime minister with the same confidence and self-assurance she has brought to a multitude of film roles over the years.
The film, set for release at the end of the month in the US and early January in UK, has generated considerable Oscar-buzz for Streep, who already has earned two of the little statuettes.
In the rare interview, the actress also discussed her dislike for filming multiple re-takes on movie sets.
"I guess I have less tolerance for it. I like movies that have a little budget and so they can't do (scenes over and over)" said Streep, in the interview due to be broadcast Sunday.
She said another pet peeve is that movies today are increasingly aimed at drawing in a younger, less intellectual crowd. "That's called the narrowing of the audience," she said.
"The movie business has worked very assiduously to discourage you and other intelligent, discerning people from the... movie theatre. They have worked hard to get rid of you because you don't go then and buy toys and games."
She praised the fact however that for the most part, in today's Hollywood films, "the acting is better than in the classic days."
Thatcher, 86, was in power at the head of a Conservative government from 1979 to 1990 and became the longest continuously serving British prime minister of the 20th century and the country's only woman to be premier.