"Falklands' flag remains an internationally recognized registry"
Monday, December 19th 2011 - 07:06 UTC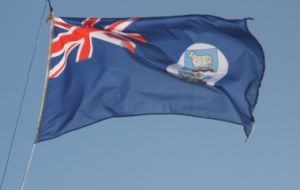 Surprise and perplexity has surfaced from the Falkland Islands following the announcement by President Jose Mujica that Falklands' flagged vessels are barred from Uruguayan ports.
"Since Falklands' vessels have been trading for several decades with Montevideo it would be interesting to know what in the President's mind has changed in the law to make the Falklands flag illegal", said reliable sources from the Falklands' fishing industry.
Furthermore from a practical perspective it is not clear because "certainly international law pertaining to flags has not changed, and the Falklands flag remains an internationally recognised registry".
The Falkland Islands are a member of the Red Ensign Group Register as an Overseas Territory of the UK. The Islands have held a registry since 1861 and currently operate a 'Category 2' membership.
Since the UK is responsible for foreign affairs and defence of the Falkland Islands, British ambassador in Montevideo Patrick Mullee is scheduled to meet with Uruguay's Foreign Affairs minister Luis Almagro on Wednesday following the two-day Mercosur summit in Uruguay.
"I think I will be meeting with Ambassador Mullee and most probably it will take place next Wednesday since Monday and Tuesday we have the Mercosur summit in Montevideo", said Almagro who added that "we are in permanent contact with our ambassador (Nestor Moreira Morán) in Great Britain".
Last Friday the Foreign Office convened the Uruguayan ambassador to express London's "great concern" and demand "clarifications" regarding the Uruguayan position, according to British embassy sources in Montevideo.
"The Uruguayan position is potentially very worrying and we are carefully considering our next steps", said a Foreign Office brief message which was read to the media in Montevideo.
"It would be most disappointing that Uruguay has decided to back the shameful attempts by Argentina to harm the economy and way of life of the inhabitants of this small archipelago by blocking access to free trade".
The Foreign Office message adds that Britain has no doubts about its sovereignty over the Falkland Islands and will continue to support the right of the Islanders to determine their own political future.
"Nor we or the Falklands will yield to those pretending to intimidate or blackmail the Islands".
The Foreign Office reaction followed on last Thursday's President Mujica's words and a brief release posted in the Executive portal stating that the measure is in support of Argentina's claim over the Malvinas Islands, although the decision was not extensive to English flagged vessels.
The release added that Uruguay was not acting under pressure from Argentina.