Shout it loud enough and even the good guys believe it
Friday, December 23rd 2011 - 14:42 UTC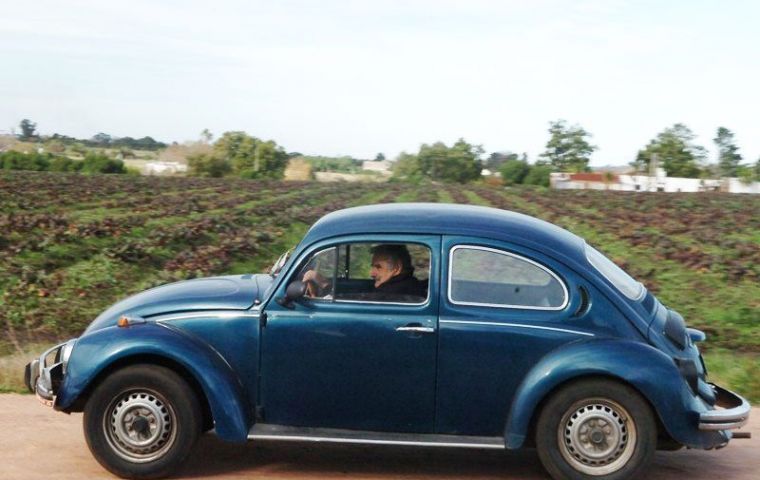 By John Fowler for Penguin News, Stanley, Falkland Islands - My first contact with Latin America came in 1971, when my wife and I spent four days in Montevideo while waiting for a ship to carry us to the Falkland Islands. We received such amazing hospitality and kindness from the Uruguayans we met then, that this small, but perfectly-formed country has had a place in my heart ever since.
More recently, I had also developed something of a soft spot for Uruguay's President, Mr José Mujica, since I learning that the official transport of this former guerrilla fighter who spent many years as a political prisoner, is an Opel Corsa and that his only personal asset is an aging Volkswagen Beetle.
The antithesis of the popular image of a Latin American president and described sometimes as an anti-politician who speaks the language of the people, President Mujica apparently gives some 87% of his official salary to charity and lives off the meagre profits of a small-holding and road-side flower and vegetable stall owned by his wife Lucia Topolansky.
In the light of this admiration, President Mujica's decision this week to ban Falkland-flagged vessels from Uruguay's ports came at first as a source of great disappointment. On reflection, however, while still hoping that he will either reverse or not enforce a decision which could cost Uruguay's economy dearly, I have come to realise that it was consistent with my image of him as an unusually simple, straight-forward and sincere man. For years, it seems, we in the Falkland Islands have come to expect that Latin American leaders will publicly side with Argentina over the sovereignty issue to the extent of signing declarations of support, but have counted on them being duplicitous enough not to do anything about it.
My problem then is not with President Mujica acting according to his beliefs, but with what he has chosen to believe, namely that the Falklands/Malvinas sovereignty issue is a colonial one, rather than one about the rights of a small emergent nation to the self-determination promised by the Charter of the United Nations.
This is proof, I suppose, if proof were needed, that if like the President of Argentina you repeat something long enough and loud enough it tends to be believed, however wrong it may be.