Duke of Edinburgh remains under observation; misses Boxing Day shoot
Monday, December 26th 2011 - 11:24 UTC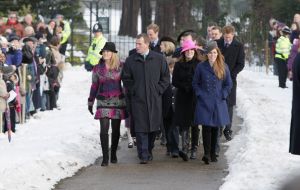 Duke of Edinburgh is to remain under observation after a third night in hospital, and is set to miss the Royal Family's Boxing Day shoot. The shoot, usually led by the Duke, is expected to go ahead as planned.
Prince Philip, who is 90, had a coronary stent fitted on Friday after suffering chest pains. He has been in Papworth Hospital in Cambridgeshire ever since, but a Buckingham Palace spokeswoman said he had had another good night.There has been no word yet about when he will be discharged.
Six of his grandchildren, including Prince William and Prince Harry went to visit him for 45 minutes at Papworth on Christmas Day evening. The Duke of Cambridge and his younger brother drove separate cars to the hospital from Sandringham, the Queen's private Norfolk estate.
Also with them were the Duke of York's daughters Beatrice and Eugenie and the Princess Royal children Zara and Peter. The Royal Family had earlier attended a Christmas Day service at a church on their Sandringham estate without him.
Around 3,000 well-wishers gathered outside the church to see various members of the family, including the Prince of Wales and Duchess of Cornwall, the Princess Royal, the Duke of York, and the Earl and Countess of Wessex.
The Reverend Jonathan Riviere told the congregation: "We pray for the Queen and the Royal Family. Especially today we pray for Prince Philip and his continued recovery."
A Buckingham Palace spokesman said: "The Duke is in good spirits and will remain in hospital under observation for a short period.
"The Queen will continue to be briefed on his condition. We do not have details of a release date at this stage."
The stent is a mesh sleeve fitted over the balloon, which remains fixed in position inside the body when the balloon is removed.
Papworth is the UK's largest specialist cardiothoracic hospital and the country's main heart and lung transplant centre, treating more than 22,800 inpatient and day cases and 53,400 outpatients each year.
Prince Philip, who arrived at Sandringham on Monday, is the longest-serving royal consort and celebrated 64 years of marriage to the Queen in November. He was last in hospital in April 2008, when he spent three days in London with a chest infection. On that occasion, the Queen did not visit him.