Cuba advances with capitalist reforms to install efficient market economy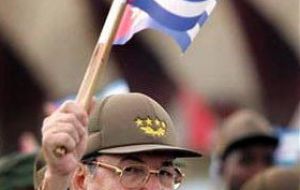 Cuba will open up more of the country's retail services to the private sector next year, allowing Cubans to operate various services such as appliance and watch repair, and locksmith and carpentry shops, official media reported on Monday.
The measures are the latest by President Raúl Castro in his attempt to reinvigorate Cuba's struggling Soviet-style economy by reducing the role of the state and encouraging more private initiative.
A resolution published in the official gazette on Monday said the new reforms would take effect on Jan. 1. Earlier this year, the Cuban government turned over some 1,500 state barbershops and beauty parlours to employees.
Former state employees now pay a monthly fee for the shop, purchase supplies, pay taxes and charge what the market will bear.
Shortly after Fidel Castro's 1959 revolution, all businesses in Cuba were taken over by the state. But since the former leader handed power to his brother in 2008, the policy has been openly criticized as a mistake.
Cuba has been moving over the last year to liberalize regulations over private economic activity. Since then, tens of thousands of Cubans have taken out licenses "to work for themselves," a euphemism used by the government to describe operating mom-and-pop businesses.
Cuba plans to have 35% to 40% of the labour force working in the "non-state" sector by 2016, compared with 15 percent at the close of 2010.
Raúl Castro, faced with stagnating production and mounting foreign debt, has made clear the economy must be overhauled if the current system he and his ailing brother Fidel installed is to survive. "We're on the brink of the cliff", was Raul famous comment on sponsoring the radical reforms that include owning cars, houses and farms.
Moving most retail services to the "non-state" sector is one of more than 300 reforms approved by the ruling Communist Party earlier this year to "update" the economy.
The measures aim to introduce market forces in the agriculture and retail services sectors, cut subsidies and lift restrictions on individual activity that once prohibited the sale and purchase of homes and cars.
Economy Minister Adel Yzquierdo Rodriguez told a year-end session of the National Assembly last week the number of state jobs would be reduced by 170,000 next year, with 240,000 new jobs likely to be added to the "non-state" sector.
Thousands of state taxi drivers are expected to move to leasing arrangements next year. Some state food services are also expected to be allowed to form cooperatives.