UK ambassador in Chile "concerned" with "economic blockade" on the Falklands
Wednesday, December 28th 2011 - 03:30 UTC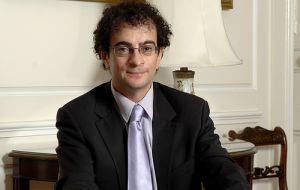 The British Ambassador to Chile, Jon Benjamin, expressed on Tuesday UK's "concern" over "countries that have joined" the Mercosur bloc in their decision to support Argentina, by putting in place a ban on ships flying the Malvinas Islands' flag from docking at their ports.
"There is definite preoccupation over the countries that have supported this decision" stated Benjamin in an interview with Santiago's main daily El Mercurio.
Chile supported the decision made on December 20 at the Mercosur Summit in Montevideo, where leaders declared their solidarity with Argentina over the long-disputed claim for sovereignty of the Islands.
The British Ambassador to Chile further stated that "it looks like a type of economic blockade on the Falkland Islands and the small civil and innocent population that lives there."
Benjamin said that the implementation of such a statement could have an impact on the economy of southern Chile since "200 Chileans live in the Falklands and the links between Punta Arenas (capital of the extreme south region of Magallanes) are significant and have been for a long time".
Chilean Government spokesman, Andrés Chadwick was asked by the press on Monday as to whether there existed some sort of upheaval between the country and the British Government, to which he replied, "We have not had one complaint from the British Embassy in Chile or from the British Government."
Chadwick said that there is a long standing Chilean State policy regarding the Malvinas Islands in support of Argentina's claim, of which the British are well aware and "there is from Chile's point of view no acknowledgement of a Malvinas jurisdiction as such, that is Chile does not recognize the Malvinas Islands sovereignty".
"And with no acknowledgement from the Chilean State there is no acknowledgement of the Falkland Islands flag", he added.
"There are no problems with the recognition of the flags of a vessel be it English or from any other country, but we can't accept a vessel with a flag from a state or Islands that, for Chile, are not a State and have no jurisdiction", concluded the Chilean government spokesperson.