Turkish economist named World Bank new Vice-President for Latin America
Thursday, December 29th 2011 - 22:59 UTC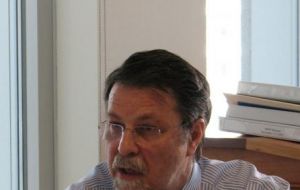 Hasan Tuluy, a Turkish national and a strong supporter of inclusive growth, will become the new World Bank Vice President for Latin America and the Caribbean (LAC) as of January 1st, 2012. Mr. Tuluy will oversee the Bank's lending, knowledge, and poverty-fighting operations in the region, which totalled 9.6 billion dollars in fiscal year 2011.
With extensive experience in development issues, especially in the Middle East and Africa, Mr. Tuluy has contributed to the strategic engagement of the Bank's work in middle income countries, which better responds to the need of these countries for a more sophisticated approach in terms of financial instruments, on time knowledge services, and greater voice in global affairs.
Mr. Tuluy's emphasis in LAC, shaped by his previous experiences, will be to consolidate the role of the World Bank as a trusted partner, helping countries deliver opportunities to all citizens through sustained and socially inclusive growth.
"I am very grateful for the opportunity to work in Latin America and the Caribbean, a region that has demonstrated that successful outcomes can be shaped by the right kind of policies and leadership," said Tuluy.
"Barely a decade ago LAC was thrown into a tailspin by an international financial crisis with countries facing recessions in varying degrees. Since 2003, the region has been reaping the benefits of one of its strongest periods of growth, lifting 73 million people out of moderate poverty and slashing extreme poverty rates in half".
Mr. Tuluy replaces Pamela Cox, who after seven years in the region will take the position of Vice President for the East Asia and the Pacific Region.
Referring to the uncertainty of the global outlook, Mr. Tuluy said "While it is still unclear how much the current Euro-zone debt crisis will impact the region, at risk would be its hard-won social gains. These need to be protected, and we are ready to help, working together with our regional development partners."
Prior to becoming Vice President for Latin America, Mr. Tuluy was the World Bank's Vice President for Human Resources. He has also served as Chief Operating Officer for the Multilateral Investment Guarantee Agency (MIGA), as Director of Strategy & Operations in the Middle East and North Africa Region, and as Director of Corporate Strategy.
Mr. Tuluy will lead the activities of 700-plus staff working in the LAC region and will oversee a portfolio of over 17 billion dollars in loans, grants and credits. Typically, the region accounts for more than 30% of total International Bank for Reconstruction and Development (IBRD) lending worldwide. The World Bank serves 31 countries in LAC, home to more than 540 million people.