Forest fire in Torres del Pain out of control because of the strong winds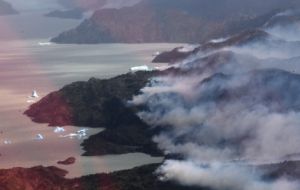 Chile declared on Friday "catastrophe zone" the extreme south province of Ultima Esperanza where a forest fire, so far out of control, has ravaged over 9.000 hectares of pristine flora from the Torres del Paine national park.
It was also decided to shut down the park until February and evacuate all tourists as well as hotel and all other services staff.
The news was confirmed by President Sebastian Piñea following a meeting of the Contingency Committee also attended by Interior Minister Rodrigo Hinzpeter, the head of the Emergency Office, Vicente Núñez and chiefs of staff from the military and the Carabineros.
"We have decided to declare the province a catastrophe zone and I have requested the ministers of Agriculture, Luis Mayoral and Environment, Maria Ignacia Benitez to fly to the area and personally coordinate operations", said Piñera
"Given that the situation is extremely complicated because of climate conditions, strong and changing winds, difficult to foresee, it was also decided to shut down the park for the whole month of January".
Pervious to the meeting Interior minister Hinzpeter admitted the fire continues to expand in spite of all the efforts, "I can say frankly that it is a fire very difficult to control because of the topography, highly combustible vegetation and the climate conditions that have prevented us from attacking the fire from the air".
The latest reports indicate the wind continues to blow strongly (up to 120 kilometres per hour) "so we can only expect the fire to keep expanding".
Hinzpeter revealed that contacts have been made with other countries for the provision of satellite digital heat-sensitive pictures so the worst areas can be identified.
"We have at least 250 people working in the area trying to combat the fire, including 23 from neighbouring Santa Cruz province and we have contacted countries with experience in these catastrophes, US, Spain, Argentina, Brazil and Australia", said the Interior minister.
The only piece of good news is that 10 to 15 mm rainfall has been forecasted for Saturday, moving slowly from the south northwards.
Torres del Paine park is one of the main tourist attractions of Chilean Patagonia with over 120.000 visitors annually. It covers an area of rugged Patagonian topography extending for 242.000 hectares.