Peronist youth organize a 'donate blood' campaign in solidarity with CFK
Monday, January 2nd 2012 - 06:07 UTC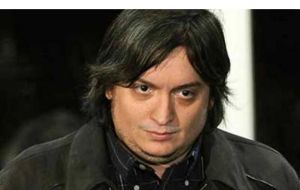 As a demonstration of support for Argentine President Cristina Fernandez who will undergo surgery for a thyroid carcinoma, the youth branch of the ruling Argentine Peronist Party has invited the Argentine people to donate blood to local clinics and hospitals.
"The campaign was the idea of our youngest members as a positive, unified way to channel all the support we can for Cristina in this very special moment she must undergo" said Lorenzo Beccaria, one of the organizers of the initiative.
Beccaria said young Peronists are "convinced" that that president will pull through the difficult moment and come out "strengthened" from the Wednesday surgery at the Austral Hospital in the city of Pilar.
The campaign was organized by the La Campora grouping from the Peronist Youth movement, the political youth organization led by Maximo Kirchner, Cristina Fernandez son. The slogan of the campaign is "the force of blood" and in support of the President, 58, who was diagnosed the tumour during a routine medical check-up.
Those wishing to give blood from any group can do so beginning Tuesday at either of two public medical centres in the Vicente Lopez municipality, outskirts of Buenos Aires where the presidential residence of Olivos is located.
Oncology specialists coincide that Cristina Fernandez is suffering from a type of cancer which can be cured in 90% of cases, with an excellent chance of a full recovery and leading a normal life after surgery and a recovery period.
President Cristina Fernandez is scheduled to return from Patagonia on Monday and will to on a 20-day medical leave following the Wednesday operation until Jan. 24, during which time the government will be led by Vice President Amado Boudou.