Sarkozy over burdened with a stagnant economy and elections next April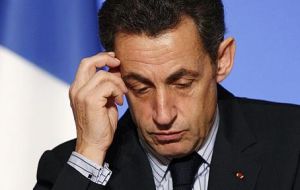 French President Nicolas Sarkozy pledged in a grave New Year's message to find ways to pull the economy out of stagnation in the four months left before a presidential election and vowed no further public spending cuts.
Sarkozy told the nation that the worst economic crisis since World War Two would continue to hurt households in 2012 and urged people to be stoical.
He said he was intent on agreeing reforms at a January 18 meeting with unions that could bolster employment and economic competitiveness. He also said he wanted taxes on imported goods to help fund France's cherished welfare state, currently financed by company and income taxes.
"I know that the lives of many of you, already tested by two difficult years, have been put to the test once more. You are ending the year more worried about yourselves and your children," Sarkozy said in a 10-minute televised speech.
"The only way to preserve our sovereignty, to control our destiny, is to choose ... the route of structural reforms rather than that of impulsive actions which only add to confusion and chaos without restoring confidence."
The conservative leader is heading toward April's election trailing Socialist challenger Francois Hollande in opinion polls and with rampant unemployment, the Euro zone crisis and the prospect of a sovereign debt downgrade hanging heavy over him.
Many French resent the fact that his campaign pledges of five years ago to bolster employment have come to little.
Some feel Sarkozy's past tax reforms have over-favoured the wealthy and many also dislike what they see as an impulsive and brash manner that stands out from the more austere and erudite personalities of past presidents.