Piñera says Torres del Paine fire under control; 12.795 hectares lost to the blaze
Tuesday, January 3rd 2012 - 00:52 UTC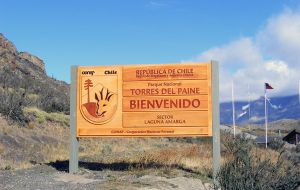 The fire that broke out in the Chilean Patagonia Torres del Paine national park forest is under control due to the effort of hundreds of fire-fighters and improved climatic conditions, Chilean President Sebastián Piñera announced Monday afternoon.
The Israeli citizen accused of having caused the fire denied his involvement.
"Thanks to the work of fire-fighters and improved weather conditions, four of six fires in Torres del Paine national park are under control" Piñera announced in his Twitter account.
He added that 12.795 hectares have been lost to the fires, two thirds of which grasslands and steppes, and a third native forest. Over 750 fire-fighters including from neighbouring Argentina and Uruguay are involved in the task.
Piñera who was strongly criticized for the slow reaction of his government to the major environmental disaster, said that the "fire broke out in an area of very difficult access but we have provided all the resources requested, even more".
"We hope to put out the fire completely in a matter of hours or days," Interior Minister Rodrigo Hinzpeter said confirming Piñera's statements. The fire began Tuesday afternoon in the lake Grey area of the world renowned Park which is home to Patagonian species such as guanacos, huemules and condors.
However President Piñera was also cautious saying that the fires could reignite because of changing weather conditions, the same that helped spread the fire a week ago.
"We still have to work for full control of the situation. Unfortunately because of the drought and the heat wave we still have a situation of extreme vulnerability regarding fires. Nevertheless we are preparing for the partial re-opening of certain areas of the park", said Piñera.
The original idea was to close the park for the whole month, however since it is one of the main sources of summer employment and revenue for nearby Puerto Natales (12.000 population), local politicians called for a more pragmatic approach to minimize disruption to tourism and local businesses.
Torres del Paine neighbouring with Argentina has 242.000 hectares of pristine Patagonian topography and wild life and receives 150.000 visitors annually. It was declared a Biosphere Reserve by UNESCO.
Israeli citizen Rotem Singer, 23, has been accused of starting the fire after he allegedly did not put out a toilet paper roll fire correctly, but he denied the charges. If he is found guilty he could face up to 60 days in prison and a fine of around 300 dollars.
President Piñera has proposed increasing the penalties for anyone who causes forest fires, be it intentionally or negligently.