Argentine state becomes partner of the country's 33 air terminals' concession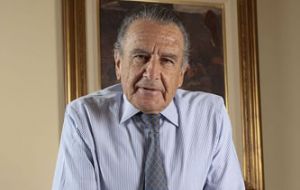 The Argentine state has made effective its option to a 15% stake of Aeropuertos Argentina 2000 which has the concession of the country's 33 main air terminals. The company which has the concession, Corporacion America belongs to Eduardo Eunerkian, the same man who financed the Argentine Memorial cemetery in the Falkland Islands.
The Argentine government had the option open since 2007 when Eurnekian accumulated debts of over 200 million dollars because of unpaid royalties contemplated in the original concession contract.
With the Argentine state holding 15% of shares, Eurnekian drops to 84% while the remaining 1% belongs to the construction company Riva.
Eurnekian who has been a good friend of Argentine presidents won the Argentine airports privatization back in 1998, under the administration of former president Carlos Menem. His partners at the time were the US based company Ogden and Italy's SEA. However the Italian partner pulled out and sold its 10% to the Uruguayan company Cedicor which happens to control Corporacion America.
The contract established an annul levy of 171 million dollars, but Eurnekian was rapidly in arrears with his commitment and debts rapidly climbed to 800 million Argentine Pesos.
The Argentine government said it was willing to compensate for the forced 'pesification' of debts because of the 2001/02 Argentine economy meltdown, and Aeropuertos Argentina 2000 proposed paying a percentage of revenue.
Finally in 2006 an agreement was reached: the concession was extended until 2028 and the Argentine state was entitled to a 15% stake option and a member in the board of directors which became effective with a 2007 decree.
Eurnekian also has the concession of Uruguay's international airport of Carrasco.
The Argentine entrepreneur of Armenian origin has another major project in mind: the construction of a bi-oceanic corridor between Argentina and Chile for which he has proposed drilling a second tunnel.