Hybrid sharks in Australia indicate animals are adapting to climate change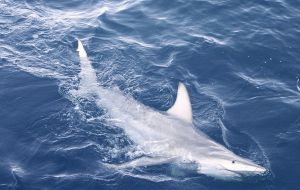 Researchers have discovered the world's first hybrid sharks in Australian waters, indicating that animals are adapting to climate change for survival.
Leading researchers in marine biology have come across 57 animals along a 2,000-km stretch from Queensland to New South Wales which they believe are the result of cross-breeding between the common black-tip shark and Australian black-tip shark, two related but genetically distinct species.
The inter-breeding between the two species shows that the animals are adapting to climate change and the hybridization can make the fishes stronger, the scientists said.
"Hybridization can enable sharks to adapt to ecological change as the smaller Australian black-tip currently favours tropical waters in the north while the larger common black-tip is more abundant in sub-tropical and temperate waters along the south-eastern Australian coastline" Jennifer Ovenden of Queensland department of primary industries and fisheries said.
"Wild hybrids are usually hard to find, so detecting them and their offspring is extraordinary. To find 57 hybrids along 2000-km of coastline is unprecedented," she said.
Another researcher at the University of Queensland researcher, Jess Morgan, said it was unusual for sharks to breed in such a way. She said as sharks physically mate, it makes sure they do not hybridize with the wrong species.
The find was made during cataloguing work off Australia's east coast when genetic testing showed certain sharks to be one species when physically they looked to be another. Colin Simpfendorfer of James Cook University's Fishing and Fisheries Research Centre, said the results of this research show that we still have a lot to learn about these important ocean predator.