Top IMF economist warns of credit squeeze for Latam if Euro crisis worsens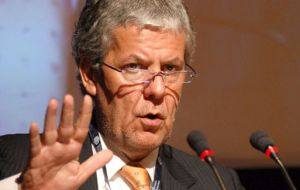 Latin American economies face a recession and a credit squeeze if Europe's debt crisis worsens, director of the IMF Western Hemisphere Department Nicolas Eyzaguirre said on Wednesday.
Shoring up government finances and easing monetary policy should help Latin American nations to prepare for the worst, given the rising risks from the Euro area added Eyzaaguirre.
"We don't see a recession coming in Latin America if the European crisis remains contained, but weaker growth is clearly in the cards, not least because confidence and commodity prices have been falling" Eyzaguirre pointed out in an IMF blog.
If Europe's simmering crisis comes to a boil and Euro-zone banks are starved for short-term dollar funding, Latin America could face its own financial turmoil.
"A reason for this is that affiliates of Euro zone banks have a fourth of their assets in Latinamerican countries and many of them are adopting more conservative credit policies to reinforce their balance sheets".
Spanish banks which is under growing financial pressure in the EU holds 25% of the private banking systems in Mexico, Chile and Peru.
"Fewer external credit lines available to banks could trigger a credit crunch in Latin America" indicated the Chilean former finance minister. On top of a decline in confidence, slower investment and if the malaise spreads to Asia plus the falling commodity prices and a credit crunch we would have "a toxic mix for growth and stability."
He said in countries where inflation is under control, easing monetary policy is an appropriate pre-emptive step. He warned that if the Euro crisis worsens, governments may need to stimulate their economies.
Also, "financial systems should be under extra scrutiny for signs of stress, with a particularly watchful eye for liquidity strains" he said.
Overall, Eyzaguirre praised Latin American economies for managing their economies and markets "skilfully" since the 2008 financial crisis, putting them in a position of strength in advance of Europe's strains spilling into the region.
Economist Eyzaguirre also said the IMF is expecting slower global growth overall, including in China, a major demand centre for many Latin American economies.
Aside from Europe's crisis, the inability of the US government to "strike the right fiscal policy balance" in both the near and long term was also contributing to nervous financial markets globally.