Chile's forest regions on fire; six fire fighters killed; Piñera to apply anti terror legislation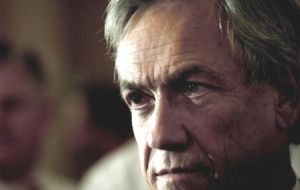 Chilean President Sebastian Piñera invoked anti-terror legislation after at least six fire-fighters died in a wildfire he believes was started deliberately.
An unusually hot and dry start to the Chilean summer has seen more than 50 wildfires, fanned by high winds, burn down scores of homes and destroy some 50,000 hectares of natural forest, woodland and brush over the past ten days.
Authorities suspect several fires that erupted almost simultaneously in the forest regions of Biobio, Maule and Araucania, some 500 to 700 kilometres south of the capital Santiago, were the work of criminals.
"We have reliable information that makes us presume there is criminal intent behind these fires," Piñera said. "I believe that we ought to combat not only the fires, but also the criminals behind the fires."
Ten fire fighters, private contractors for forestry company Mininco, were trapped Thursday when the blaze they were tackling in a mountain forest near Carahue in Araucania suddenly changed direction.
"The fire suddenly surrounded them because of the wind, they drew closer together, one against another, and saw the fire pass above them," local governor Miguel Mellado told Canal 13 television.
Six fire-fighters perished in the flames, two were rescued by helicopter but suffered bad burns, and another is still missing. The 10th fire-fighter, Hector Herrera, managed to escape.
"When I wanted to leave, I was unable, I went back and there was fire everywhere. The only choice was to take the canteen and get myself wet and go over the fire," he later told the media.
Piñera said he would invoke Chile's anti-terror law, which is highly controversial as it dates back to Augusto Pinochet's 1973-90 dictatorship, to help track down and punish the culprits.
"Clearly, the intentional and criminal character of provoking simultaneous and deliberate fires makes this conduct of a terrorist nature," he said.
The draconian anti-terror law notably allows for steeper punishments, for suspects to be detained longer without charge, and for the use of anonymous witnesses in trials.
It was last invoked in the 2011 trial of indigenous Mapuche activists charged over 2008-2009 clashes in the Araucania region, where they say their ancestral lands have been taken over by forestry companies.
The only casualty from the spate of wildfires up until Thursday had been a 75-year-old man who refused to leave his home in the Biobio region.