Ford launches Brazil designed EcoSport to be marketed in 100 countries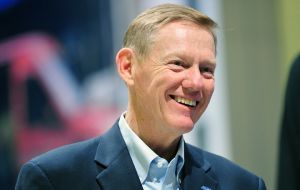 The Brazilian subsidiary of automaker Ford has unveiled a new version of its EcoSport SUV and says it will be sold in close to 100 countries. The car was introduced Wednesday in the Brazilian capital and at the Auto Expo show in New Delhi.
Ford in a statement said that the new EcoSport is an improved, more aerodynamic version of the model it began producing in northeastern Brazil in 2003.
The statement says the EcoSport will be produced in Brazil and India and in other countries to be announced in the future. It will be sold in emerging markets, mostly in Latin America and Asia. Ford expects that by mid-decade more than 2 million units of the new EcoSport will be produced each year.
Ford Chief f Executive Officer Alan Mulally introduced the vehicle in New Delhi and announced the company will manufacture the EcoSport at its plant in Chennai, in southern India.
Mulally, who has revived Ford by focusing on quality and fuel economy in new models such as the Fiesta subcompact and redesigned Explorer SUV, expects the EcoSport to win it more customers.
"The Indian market is a tremendous market for us" Mulally said at press conference. "This vehicle offers the flexibility, reliability and quality of a compact car with the gait and roominess of an SUV."
Ford's India unit will have a capacity to make 440.000 vehicles annually by 2014. The local unit will spend 142 million dollars on making EcoSport available in India, he said, without providing the price of the SUV or saying when sales will start.
The EcoSport is the second of eight new models Ford plans to introduce in India by 2015 in a bid to boost its presence in Asia's second-fastest growing major economy.
The EcoSport will feature a 1-liter, three-cylinder direct- injected EcoBoost engine, according to a company statement.