Spanish banks must set aside 50bn Euros to cover 'toxic' real estate assets
Friday, January 6th 2012 - 07:01 UTC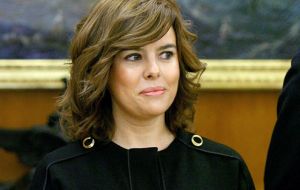 Spain's Conservative government ruled out a bad bank to deal with toxic property assets, wary of adding more debt to a nation fighting to control its deficit and putting the onus on lenders to make their own provisions.
Ring-fencing property assets at a state level was never on the government's agenda, said Deputy Prime Minister Soraya Saenz de Santamaria at a press conference after the weekly cabinet meeting on Thursday.
Economy Minister Luis de Guindos said in a Financial Times interview that he expected banks to set aside up to 50 billion Euros in extra provisions to cover toxic real estate assets built up over a decade-long housing boom.
The majority of banks can achieve this by retaining earnings, and will get several years to do so, he said, a move that would restrict banks' earnings growth.
Spain is loath to bail out its banks, saddled with billions of Euros of unsold property and loans to bankrupt property developers, as this would force a sharp jump in national debt, further damaging Euro zone sentiment.
Analysts and one banking source said the move seemed to be very similar to what the last government proposed, that is putting the onus on the banks to come up with provisions to cover for toxic assets rather than pumping in state funds.
Although Spain's public debt ratio is lower than that of France or Germany, the state deficit is expected to reach 8.2% in 2011, overshooting the 6% target.
Setting up a bad bank could bump up the public debt ratio to uncomfortable levels. Bailing out the Irish banks quadrupled Ireland's debt-to-GDP ratio.
The Bank of Spain has required banks, including Santander, BBVA and its savings banks, to take a 30% provision for the 176 billion Euros of bad or substandard property assets they hold, around half of all property-related assets.
As the domestic economy has worsened and the value of assets has deteriorated, the Bank of Spain was expected to tell banks the provision needed to be about 50%. The comments by de Guindos indicate the provision will be nearer 58%.