Bush fires in Patagonian Chubut out of control; several towns evacuated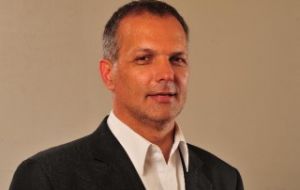 Authorities from the Argentine Patagonia province of Chubut issued a red alert on the fires that affect forest areas and decided to evacuate El Hoyo town, while 40 Chilean fire-fighters were expected to arrive to the mountain region to help put out the bush fires.
The fire, which has consumed over 4.000 hectares is out of control and began affecting the urban area of El Hoyo town, while another fire broke out next to the town of Moquehue in the neighbouring province of Neuquen.

A Chubut provincial government official requested residents to leave their homes. Two schools were to receive the evacuees. The Argentine National Weather Forecast service (SMN) announced that rains could be expected towards the weekend.

Over 150 fire-fighters supported with hydrant fire planes and choppers are working to put out the fires in Chubut that began last week. Chubut and Chile authorities were evaluating sending the promised 40 Chilean fire-fighters to the mountain region within the Argentine province, to help to put out the bush fires that continued to spread close to El Hoyo, Chubut officials from the National Plan for Fire Management (PNMF) informed.

The presence of Chilean fire-fighters was requested directly to the Chilean Embassy. Only last week more than 300 Argentine firemen has been helping to combat fires in several Chilean regions.

Chubut Governor Martín Buzzi, told press reporters that he was expecting the arrival of the Chilean fire-fighters adding that "we are grateful for the help efforts from our neighbouring country, who also have suffered fires in recent days, so that they join forces with our hardworking and courageous fire-fighters".

Buzzi remarks were in reference to the 55,000 hectares of forest fires that spread across the Chilean Patagonia causing at least six deaths. More than 2,000 firemen, tens of planes and emergency teams from Argentina, Australia, Uruguay and the US were working in Chile to combat the fires.