Chilean per capita meat consumption has doubled in the last two decades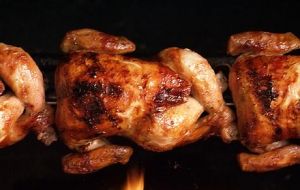 In the last two decades Chileans consumption of different meats has doubled according to data from the Agriculture Policy and Studies Office, ODEPA, released this week. From the 39.6 kilos of 1991, meats consumption soared in 2011 to 84.2 kilos on average, and not taking into account fish and sea food.
If the 28 years since meats' consumption stats were first recorded is taken into account, beef has soared 50% since 1986, from 14.7 to 21.7 kilos in 2011, while pork has jumped four fold from 6.1 kilos to 25.7 kilos.

But what really outstands is chicken which has ballooned six fold since 1986 from 6.5 kilos to 36.1 kilos last year.

Agriculture minister Luis Mayol said that eating meat is a staple of Chilean diet and its consumption is very high according to international standards, and comparable to OECD countries, according to FAO.

Of the total consumed by Chileans, chicken represent 46% followed by pork with 25% and beef, 21%.

Minister Mayol also underlined that the meat industry generates and maintains many jobs and in Chile both farmers and manufacturers depend on the meat industry.

However regarding the increase in beef prices ODEPA argues that the veterinary services are to a certain extent to blame for having banned the import of Paraguayan beef, since the country has reported outbreaks of foot and mouth disease, last September and now in January.

As to the alleged collusion of price by chicken farmers, Minister Mayol said he was concerned about the industry's transparency and that there was an investigation.

But Mayol also pointed out that even if the claim is proved, prices should not necessarily fall since 16% of chicken consumed in Chile is imported and this "has helped competition and benefit consumers".