ECB says flood of 'cheap money' helping the Euro zone banking system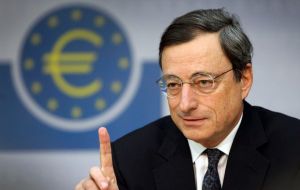 The European Central Bank's flood of cheap three-year money is helping the Euro zone's banking system substantially and supporting confidence in the bloc's economy which is showing some signs of stabilisation, president Mario Dragui said on Thursday.
The ECB left interest rates on hold, pausing to assess the impact of back-to-back cuts and a slew of other measures it unleashed late last year that are showing signs of helping fight the Euro zone debt crisis.
"The extensive recourse to the first three year refinancing operation indicates that our non-standard policy measures are providing a substantial contribution to improving the funding situation of the banks, thereby supporting financing conditions and confidence," Draghi told a news conference after it held its benchmark rate at 1.0%.
To help fight the Euro zone debt crisis, the ECB provided banks with nearly half a trillion Euros of three-year money in December, called LTRO, and will make a similar offer in February.
French President Nicolas Sarkozy has urged banks to use the cheap three-year loans to buy sovereign bonds of Euro zone strugglers and strong debt auctions in Spain and Italy on Thursday suggested some may be doing that, with analysts saying abundant liquidity helped support demand.
"The more time passes ... the more we see signs it has been an effective policy measure," Draghi said. "This decision has prevented a credit contraction that would have been ... much, much more serious."
Banks remain very reluctant to lend to each other, so the ECB action has helped keep the system working although there is less evidence that the money is making its way into the real economy.
At the first chance to get 3-year funds, banks took a record amount of 489 billion Euros in late December, though so far much of the money has returned to the ECB as overnight deposits.
The decision to leave rates on hold after cuts in November and December - taken unanimously - was in line with market expectations and financial markets showed little reaction.
Alongside the extraordinary liquidity to banks, the ECB has eased its collateral rules and kept buying Italian and Spanish government bonds although it continues to baulk at doing so to the more dramatic extent which some policymakers have urged.