Oil company ensures funds for a Falkland Islands' two-well drilling round
Friday, January 13th 2012 - 19:21 UTC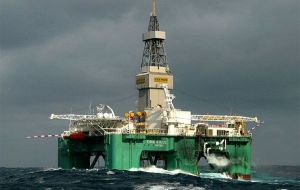 UK-based Falkland Oil and Gas (FOGL) announced on Friday it has raised £48.5m (74.3m dollars) through a placing of new ordinary shares to fund drilling of exploration wells in Falkland Islands while it continues active discussions with potential partners for a farm-out.
The net proceeds from the issue of new shares, together with FOGL existing cash resources, will be used to fund a two-well drilling program. FOGL, which operates in the south and east Falkland basins, said the net proceeds will provide the financing to drill a deep well on Loligo and a well on Scotia.
According to the company's release FOGL is awaiting the arrival of the Leiv Eiriksson rig to the Falkland Islands which is expected to occur within the next ten days. FOGL will have access to the rig for the third and fourth slots in the combined Borders & Southern plc and FOGL drilling program and expects to commence drilling its Loligo prospect in the Northern license area in early May 2012.
The Environmental Impact Statement for Loligo was approved by the Falkland Islands Government on 24 December 2011 and well planning is now in its final stage.
"FOGL has been funded to drill a shallow well on Loligo and a second well on another Tertiary Channel target such as Nimrod or Vinson.
The Company's preference, however, is to drill a deeper well on Loligo which targets additional reservoirs and to have the financial flexibility to drill a Mid Cretaceous Fan prospect as the second well".
The drilling of Loligo will fulfil FOGL Phase 1 commitment on its Northern Licences, which will expire on 15 June 2012. Drilling of Loligo will also allow FOGL to enter the second phase of the Northern Licenses which run until 15 December 2016.
FOGL said that whilst the placing provides with the funds it needs for two deep wells the company intends to progress the on-going farm-out discussions with various interested parties as participation by a farminee could provide additional drilling funds.
FOGL chief executive Tim Bushell said the additional funds will significantly increase the company's flexibility over the forthcoming drilling program expected to begin in early May with the drilling of Loligo.
"We are delighted by this show of support from new and existing shareholders. The additional funds will significantly increase our flexibility over the forthcoming drilling programme expected to start in early May with the drilling of Loligo", said Bushell.
The Falkland Islands seem set to be transformed into an oil producing region after Rockhopper Exploration drilled several successful wells particularly at the Sea Lion prospect with promising oil results. Desire Petroleum also involved in the first round of drilling which began in April 2010 and ended this month, had some promising results
Precisely last Sunday the "Ocean Guardian" rig contracted by Desire Petroleum and involved in the drilling round, has started its long journey back to Scotland.